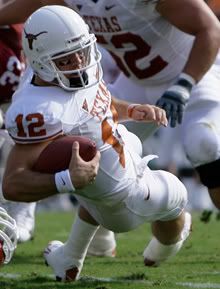 ↵For a second time during this second half, freshman ↵Oklahoma backer Travis Lewis got hit for a critical ↵unnecessary roughness for "hitting" Texas QB Colt McCoy on ↵the sideline. On both plays, Lewis barely touched McCoy -- ↵the Longhorn looked like he slipped out of bounds on the ↵first edition, and McCoy seemed to actually flop down on ↵the second one.
↵
↵How blatant was it? QB apologist Kirk Herbstreit called out ↵both bad calls. And Brent Musberger has been positively ↵apopletic about everything in black and white: he asserted ↵on both penalties that flags wouldn't have been thrown if ↵the tackles had happened on the Oklahoma's sideline instead ↵of that of Texas. He's saying the refs are susceptible to ↵fear of being yelled at by Mack Brown, or that they would ↵be afraid to get yelled at by Bob Stoops.
↵
↵Two more awful calls: Oklahoma's first TD didn't break the ↵plane and should have set up 4th and goal for the Sooners, ↵and, with the score 28-27 Oklahoma, a clear interception by ↵a Sooners d-back in the end zone was called an ↵incompletion. Texas immediately hit a field goal to take ↵its first lead
at 30-28
heading into the fourth ↵quarter.
↵
↵Turnabout is fair play: Oklahoma punter Mike Knall has ↵faked his way into two roughing the kicker calls, including ↵a simply atrocious flop with a faked injury flourish early ↵in the fourth. Oklahoma first down and, eventually, ↵touchdown. 35-30.
↵
↵Five huge, game-changing incorrect calls already. We're ↵watching an epic performance from the zebras here.↵
This post originally appeared on the Sporting Blog. For more, see The Sporting Blog Archives.