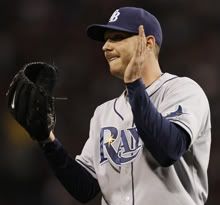 ↵Alan Schwarz of the
New York Times
has the best of several meditations on
how the young Rays reacted
to Thursday's epic collapse and the attitude the team has shown in the run-up to Game 6 tonight in Tampa. The company line: everyone is loose, cool. As Joey Johnston of the
Tampa Bay Tribune
tells it,
Rays fans feel no fear just the same
.
↵
↵It's an odd reality, considering Tampa has youth and inexperience and Boston is filled with old hands who have done this all before. The Rays
should
be taking every blip as epic, right? Schwarz writes: ↵
↵⇥If the current situation were reversed — had it been the Red Sox who blew a 7-0 lead in Game 5, and were returning to Fenway Park still up by three games to two — Boston's experience in the playoffs would make it seem somewhat impervious to a historic collapse. It is the Rays' October greenness that makes one question how well they can take Thursday's punch. ↵
↵But we all know Boston, its fans and its media folk. If the Sox blew a 7-0 lead in a pennant clincher, the apocolypse would look like child's play. The entire
Globe
would have been printed on tear-stained tissue and WEEI would just be an 24-hour series of shrieks and wails. Jonathan Papelbon would be burned in effigy. The Red Sox could win 10 straight World Series and Boston would still treat every misstep like the end of the world.
↵
↵Tampa's calm is refreshing, really, and it's just one more bit in their favor for the discerning neutral party. We enjoy the Rays because they aren't insufferable, pessimistic or apoplectic. Also,
we like the cowbells
.↵
This post originally appeared on the Sporting Blog. For more, see The Sporting Blog Archives.