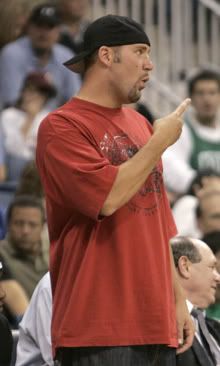 ↵The Giants haven't given Ben Roethlisberger the sort of beating the rest of the NFL has engaged in this season, but Big Ben has still offered a remarkably uninspiring performance with two interceptions in the first half. Thank goodness for that Pittsburgh defense, which has kept Brandon Jacobs under lock and forced Eli Manning to play the short yardage game.
New York leads 9-7
.
↵
↵Speaking of that Jacobs lock: he did score a touchdown which was subsequently reviewed and rejected. Otherwise, the Steelers line has contained him as well as you can -- he has 36 yards on 14 rushes.
↵
↵Elsewhere ...
↵
↵* Seattle is pounding San Francisco
20-3
, despite Seneca Wallace's existence and Frank Gore's line-of-scrimmage dominance. J.T. O'Sullivan has been a turnover catastrophe. An early fumble was among the worst you'll ever see outside of Detroit.
↵
↵* Cincinnati won't win
this one
. Matt Schaub has hung 28 on the Bengals, and Ryan Fitzpatrick can't get his charges into the end zone.
↵
↵* Cleveland and Jacksonville are in a battle, with the
Browns leading 17-14
. Derek Anderson is in "not suck" mode. I wish he'd announce this things before the game.↵
This post originally appeared on the Sporting Blog. For more, see The Sporting Blog Archives.