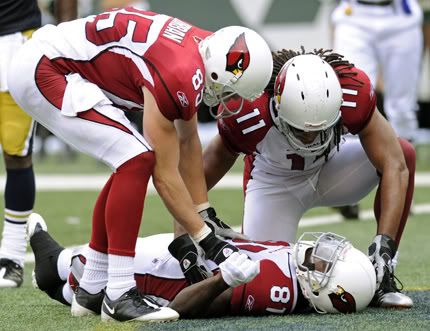 ↵
↵Last weekend's most frightening football hit came on a puzzling game-ending Kurt Warner bullet to Anquan Boldin as the Cardinals trailed the Jets by three touchdowns. Boldin got knocked out in violent fashion. He was strapped to the old stretcher and taken to the hospital. Luckily, he quickly regain his head and the most dire worries were set aside.
↵
↵But Boldin didn't came away unscathed:
the Jets literally broke his face
. The receiver had surgery to repair the fractured facial bone Thursday, and could be available for a visit from the Cowboys next week, reports Kent Somers of the
Arizona Republic
.
↵
↵Meanwhile, the guy who laid the hit, Eric Smith, was
fined $50,000 and suspended one week
. But why did the Cardinals even risk it with the game so far out of reach? Coach
Ken Whisenhunt explained himself
to ESPN's Mike Sando earlier this week: ↵
↵⇥"The thing you look at is, we did respond in the second half," Whisenhunt told the team's Web site. "We scored 35 points on five consecutive drives and probably would have scored a sixth had we not had the injury to Anquan.
↵⇥
↵⇥"We never quit fighting. As tough as things went for us and you say, 'Well, you are scraping, you are reaching for positives,' that to me is a positive that we played hard." ↵
↵The thing I look at is, your best player's face got broke on a meaningless play. Which would you prefer: losing by 14 instead of 21, or not having your star player carried off the field on a stretcher? You can't predict devastating injuries, but it makes sense to at least avoid routes over the middle when literally nothing is at stake.↵
This post originally appeared on the Sporting Blog. For more, see The Sporting Blog Archives.