Each Sunday during college football season, Spencer Hall offers a ↵letter-by-letter analysis of Saturday's college football games.
↵
↵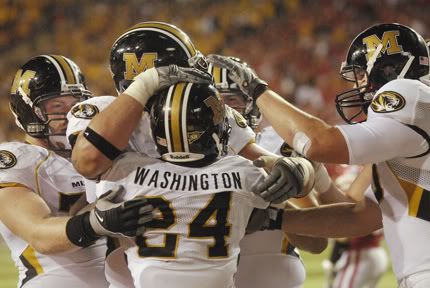 ↵
↵
↵A is for Alignment: Settle down, now. Oklahoma hit the Switzer Standard of 50 points, Missouri went spread slaughter on Nebraska, USC got their Conan on against Oregon, and after the tumult of Week 5 you may enjoy a bit of humdrum stability before the next round of upsets, snafus, coup d'états, and kneecappings in college football. ↵
↵
↵B is for Bill Snyder Rules:Approximating Oklahoma's exact goodness may still be impossible, as they've taken their bazooka of talent into tussles with what to this point have been hopelessly overmatched opponents: TCU, Cincinnati and now Baylor, who very, very foolishly poked the chimpanzee with a stick pregame (more on that in a bit.) Remember: chimpanzees are strong enough to rip a man's arms off, though how anyone actually "knows" this is something I want to hear the story of ASAP. ↵
↵
↵The point: Sam Bradford, Phil Loadholt and the remainder of the sun-blocking offensive line, DeMarco Murray and Juaquin Iglesias are racking up tremendous numbers against inferior talent. However: if you do rack up numbers against inferior talent, make sure they're large digits. Call it the Snyder Rule, as in Bill Snyder, the former K-State coach famous for stocking the pond with gimme out-of-conference games. Accepted: Oklahoma after Week 6 still hasn't been truly tested. Also accepted: they've not just beat the teams they've played, but obliterated them in the process. ↵
↵
↵
C is for Coffee: Glen Coffee, the embodiment of Alabama's day against a thorny, resilient Kentucky team: 218 yards rushing, a screaming up-the-gut and untouched wind sprint through the heart of the Wildcat defense for a touchdown, and a late fumble out-of-bounds that nearly gave away what would prove to be the winning field goal. Alabama came the closest to courteously giving away its ranking this weekend: ten penalties, three turnovers and a blown coverage late to allow a long Kentucky touchdown all contributed. ↵
↵
↵When Nick Saban gets mad, he looks three seconds away from bursting into flames. He was at that point numerous times yesterday. No, Auburn fans -- he did not ever actually get there. (Pretty sure Alabama has a designated sideline guy with a fire extinguisher specifically for that eventuality, actually.) ↵
↵
↵D is for Discerning: As in Joe Paterno, who both observed the abstract sprawl of the game from the press box thanks to continued pain in his hip and leg and gave this discerning, prudent advice re: why he chooses to take "more pills than I've taken in my whole life" for his condition rather than submit to surgery: ↵
↵
↵⇥"I'm not letting anybody get near me with a knife," he said. ↵
↵
↵Good advice in any situation, Joe Pa. ↵
↵
↵E is for Escalation: My, that got out of hand quickly. If you had the Texas Tech/Kansas State game on in the background of your gameday extravaganza, at one point in the second quarter you looked up, saw a 14-14 game, and thought, "Well, let's just check on that in a second." Then, you blinked, and the proud students of Mike Leach's Pirate School put up a barrage of 24 points in a single quarter, something they've been known to do to guests and hosts alike no matter where they are, and you thought, "Well, let's just change the channel." Again, see Bill Snyder rule; if you're playing an inferior team, don't toy with them for an instant if you want to maintain your rankings. Texas Tech didn't in a display of impressive pillage. ↵
↵
↵F is for F. Lee Corso might just want to sit this one out: though officially 9-2 on the week, Corso earns a FAIL for his pick of Auburn over Vanderbilt -- not for inaccuracy (which it was) but for lack of style: ↵
↵
↵ ↵
↵
↵Combining an Auburn helmet and Tennessee jersey in a single outfit has to be illegal; in fact, I'm kind of astonished he didn't explode on the spot, almost as astonished as I was listening to Kenny Chesney sound like he knew what he was talking about as a college football analyst. ↵
↵
↵G is for Grotesquerie: Entering Ghost Month -- the Chinese equivalent of Halloween where unlucky numbers are avoided even more than usual -- there was much ghoulish and ill-fated to note at which to stare in horror:: K-State's pass defense (626 yards allowed); the cool, clinical manner of the Oklahoma defense against Robert Griffin; the 44-10 Anger Management Special for USC against Oregon; Michigan's limp second half against Illinois. ↵
↵
↵H is for Houston Nutt Physics: The first rule of Houston Nutt coaching: for every upset of a top five team there is an equal and opposite reaction, e.g. a loss against a team they should beat. See: Ole Miss taking the momentum of a win over Florida and spiking it with three turnovers in a 31-24 loss to South Carolina. ↵
↵
↵I is for Imbalance: Miami remains a study in schizophrenia: a team outgained 440-256, incapable of picking up a first down when it mattered and stifled offensively by a carbon copy of the Reggie Ball attack from the Chan Gailey era at Georgia Tech. Their defense allowed rushing yards on simple option plays up the middle all day. Yet the 'Canes came within 2 points of picking up a win over Florida State, partially due to Seminole mistakes, but also partially due to the raw, unchanneled talent of a young team. With a year of maturation and an offensive coordinator, this team could be terrifying, but for now they're a bit of a glorious, incomplete mess of a squad in search of an identity, an offense and cohesion.
↵ ↵
↵
↵J is for Just You, Dude. Georgia Tech's receiving line on the stat sheet: Demaryius Thomas, 9 completions, 230 yards. That's it. Thomas was the only guy to catch the ball for Georgia Tech against Duke. Paul Johnson is dragging the game of football back to 1966 one knuckle-dragging play at a time; resistance is futile. ↵
↵
↵
↵
↵
↵K is for Knotty. As in hardwood tough, unyielding and unglamourously tough: Todd Reesing won't get enough credit because he is in Kansas, which is exactly in between L.A. and New York, and whose Q rating as a football program is somewhere under Mizzou's. He is, though, the reason Kansas stormed back from a 20-0 halftime deficit for a 35-33 victory against Iowa State, and he is the bellwether of their offense despite being a generous 5'11" and a self-confessed geeky reader of The Economist. (Then again, this might explain his savvy attitude toward risk management on the field.) ↵
↵
↵L is for Liddell: Your surreal moment of all surreal moments in Saturday's television broadcasts came during Mizzou-Nebraska when MMA fighter Chuck Liddell, who owns a business in Lincoln, first suggested that Chris Spielman could not "hang" with him in a fight, then retracted the playful jab, and then suggested the two could "hang" by getting drunk together. Spielman, being the canny professional he is, responded to all of this with the following quote: " . . . " ↵
↵
↵An attitude like that will keep you employed at Disney forever, Chris. ↵
↵
↵M is for Minnesota. Congrats to Tim Brewster, whose Minnesota team defeated Indiana for Brewster's first conference win ever in his second year as the Gophers' coach. ↵
↵
↵N is for Neophyte. n00b, Neophyte, New guy ... Nick Stephens, who seized the mantle of starting QB for the Vols with a competent 10/17 performance for 156 yards and 1 TD, throwing no picks, sort of looking like he knew what was going on, and not making any disastrous redzone turnovers. A 13-9 win over Northern Illinois cannot be called a turning point of any sort in the season, but it wasn't backsliding, and at this point in a dismal Tennessee 2008 that can almost be called progress. ↵
↵
↵O is for Overruled. Terrelle Pryor and Mark May have a low-grade feud going, in case you didn't know. ↵
↵
↵⇥"People like Mark May, he said 'let's see how he plays on the big stage,' " said Pryor (who the paper described as being "clearly unhappy with any suggestion of doubt about his big-stage ability.") "And we're going to see next week." ↵
↵
↵Counselor May is overruled as Pryor leads Ohio State on a late comeback to beat Wisconsin 20-17. Mark May, however, is still clinging to that pick for Pitt to win the Big East ... one of these days, at least. ↵
↵
↵P is for Prozac. Prescribed in handfuls to Auburn fans if there's a kind soul in the state of Alabama, since the Auburn offense may be a bigger mess than it was under Al Borges. After a 13 point outburst in the first quarter, the Auburn offense ... didn't. Didn't what, you ask? They didn't exist, didn't work, didn't have a coherent play, didn't ... they just didn't. I watched it with my own eyes and still cannot describe what they were trying to do, what the scheme was, or what their design or intent was. Coordinated interpretive dance? Dadaist rugby? Tickle pile? The defense allowed 14 points, and Auburn lost; this = football hell. Someone's gotta burn over this, and it's gonna be Tony Franklin, sooner or later. ↵
↵
↵Q is for Max Q. Or the NASA term for all systems functioning at maximum capacity, or a good summary of Tulsa's offense against Rice Saturday: 63 points, 31 first downs, and 577 yards offense in a 63-28 victory. ↵
↵
↵R is for Rugby. Until Jaybo Shaw began passing to loosen up the Duke defense, Georgia Tech's variation on the flexbone looked like the All-Blacks had donned the new mustard yellow togs of the Jackets and taken the field for the first half. All they needed was a good haka and the switch would have been complete. ↵
↵
↵S is for Sulfur Hexafluoride. Dale Hellstrae's vocal stylings as a color analyst on Versus are still relatively new to me, and may be new to you, as well. In case you didn't get to hear his call of the Kansas/Iowa State game, it sounded exactly like this: ↵
↵
↵ ↵
↵Hellstrae's voice is so low and relaxed he sounds like he's got lungs full of sulfur hexafluoride. If he does, I would like to remind him to stand upside down to get it out of his system, since you don't want that stuff hanging around and keeping other, more important, gases from being absorbed into your system. (You know, like oxygen.) ↵
↵T is for The Special Teams Coach Has Been Sacked. Bruce Carter of UNC blocked three punts by his lonesome against UConn in a 38-12 Tar Heel victory, meaning he either has telescoping robot arms (which is probably not kosher with NCAA competition rules), or that the UConn special teams coach should consider that MBA program he's been thinking about applying for after all these years. ↵
↵
↵U is for Undefeated: Alabama, BYU, Oklahoma, Oklahoma State, Texas Tech, Missouri, Utah, Penn State, Vanderbilt, Northwestern, Boise State, LSU, Ball State, Tulsa, and Texas. ↵
↵
↵V is for Vitamin F. As in "Fun." Urban Meyer actually chest-bumped Tim Tebow following a 4th quarter TD pass to Percy Harvin in Florida's 38-7 win over Arkansas. This was a rare display of festivity, undoubtedly calculated to remind Tebow that playing football is this something called "fun," which Meyer isn't really sure about the definition of, but he's definitely seen other people having this "fun," and thought he'd give it a shot -- whatever it is -- since he hasn't ever had any of this "fun" substance he keeps hearing about. ↵
↵
↵W is for Waste. Maryland is Austin Powers hitting on 21 at the blackjack table: lose to MTSU, beat Cal and Clemson, and then. .. 31-0 to Virginia? Al Groh's Virginia Cavaliers? Maryland, I give up attempting to understand your football whys and wherefores. To determine what you will do from week to week, I will flip a coin. Heads will mean "confusing loss;" tails will mean "confusing win." The opponent, however, will not matter, since it doesn't seem to matter to Maryland, either. ↵
↵
↵X is for Xeric. A word meaning "very dry or lacking water," describing the arid conditions of both Arizona State's campus in Tempe and the harsh stretch in the season that the Sun Devils are plowing through at this moment. A 24-14 loss to Cal marks their third straight loss, a downturn in the storyline of the Dennis Erickson revival. This raises the painful question, "How is this team substantively different from a Dirk Koetter team?" One terrible, but possibly accurate answer: they don't score as many points, frankly. ↵
↵
↵Y is for Yoked Together.. As in the fates of Oklahoma and Texas, who go into the Red River Rivalry next week as they should be: undefeated, rolling, and with a possible national title shot on the line. ↵
↵
↵Zook'd! Michigan's reclamation project status report really should just read "Zook'd!" this week, though "Juice'd!" would do as well. His 310 yards and 2 TDs passing, and 121 and pair of TDs on the ground, were the most yards any single player has ever had in The Big House. ↵
↵
This post originally appeared on the Sporting Blog. For more, see The Sporting Blog Archives.