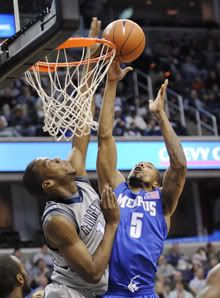 ↵With Georgetown and Memphis, you're going to get two things: efficient offense and brutal physicality. Well, screw efficient offense. The Hoyas and Tigers basically beat the crap out of each other in Saturday's match-up, with GU coming out with
a 79-70 overtime win
that was a lot closer than final score indicates.
↵
↵Hoya freshman Greg Monroe had an average game in the box score, but his late-game performance was excellent. He had two big rebounds in the waning moments of regulation and a monster block on Shawn Taggart at the start of overtime. With the Hoyas up one with less than two minutes left in OT, Monroe hit a streakng DaJuan Summers with a slick bounce pass from under the basket.
↵
↵Fellow frosh Tyreke Evans didn't fair so well in the late stages. Evans missed his last five shots in regulation, most of them close to the bucket. On his last attempt (Tigers down two), the ball bounced off the back rim to teammate Robert Dozier out in front of the basket; Dozier and a Hoya combined to get the ball into the bucket and the game into overtime. In the extra period, Evans missed four of his five attempts. He ended up with 22 points in 25 FGAs. Despite poor shooting, Monroe finished with 13 points on seven shots, with six boards and three blocks. Georgetown's best offense outside of Summers (who was a monster) came from the line, as the Hoyas had 36 FTAs to Memphis' 15. And yes, that meant we were treated to a dozen shots of John Calipari arguing with the refs.
↵
↵(It's so good to have college basketball back.)↵
This post originally appeared on the Sporting Blog. For more, see The Sporting Blog Archives.