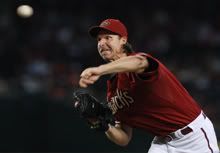 To hear the cynical San Francisco media tell it, every move made by Brian Sabean and his masters over the past few seasons has come with the intention of filling up the ballpark. The wretches are probably right, and it's hard to blame Giants owner Peter Magowan for wanting to turn a buck -- he did build the old Pac Bell Park with private cash and keeps his team among the league's top in terms of payroll. He'd be a bit stupid to
not
want a full park, actually. But is the closing-on-300-wins Randy Johnson deal (
one year, $8 million
) a step too far?
↵
↵Well, no. Big Unit is from the Bay Area, he's still good despite being 45 years old, and his addition gives S.F. one of the best rotations in the National League. Sabean talked about
how Johnson will affect the other players
-- he's a gritty, hard-nosed guy, and apparently the team wants to wean Tim Lincecum off Pokemon.
↵
↵Whether the addition of Johnson will make the Giants a better team than Arizona or L.A. is unknown. But one thing is certain: the jokes about Randy's surname and nickname will become the stuff of legends thanks to his new team's name. (Alternate headline for this post:
"$8 Million for Big Johnson Gives S.F. a Giant Unit"
.)↵
This post originally appeared on the Sporting Blog. For more, see The Sporting Blog Archives.