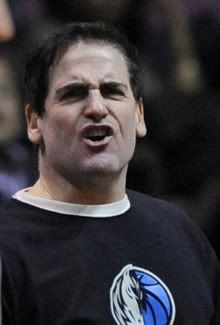 You can't accuse Mark Cuban of lacking imagination. In
a Blog Maverick post
, Cuban bemoans the lack of in-depth sports coverage on the web and suggests that the major sports leagues pay beat writers to work at major newspapers in exchange for guaranteed space. (At least I think that's the idea.) ↵
↵⇥I know this is in violation of all previous principles of editorial church and state, but then again, watching papers going out of business and not even being able to give themselves away means its (sic) time to start a new branch of that church. Having the world of professional sports realize the value of locally created content, available in an offline format, might just be a proactive step that saves us a lot of money in the long run. ↵
↵It's cute that Cuban thinks an annual subsidy of, like, $150,000 (three beat writers to cover three sports) per newspaper will save the industry. But the owner's comments on the lack of good local coverage on the web show how out-of-touch Cuban is with the reality of sports on the web. While the Mavericks have been busy building sites no one uses (
MavsWiki
), other teams actually work with independent bloggers instead of
banning them from the locker room
for negative coverage.
↵
↵Of course local sportswriting for the web can improve. Newspapers realize that, sending beat writers and columnists to the website for additional coverage. And local bloggers continue to provide a depth of devotion and analysis that newspapers can't match ... but more resources and access would help. That seems a wiser path toward expanded coverage of sports teams than Cuban's scheme to essentially pay for extra ink.↵
This post originally appeared on the Sporting Blog. For more, see The Sporting Blog Archives.