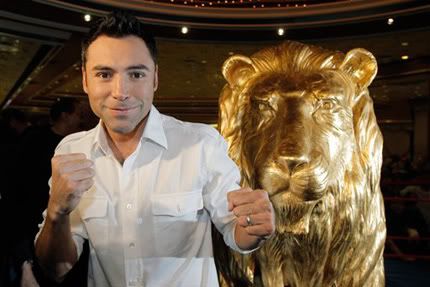 ↵
↵Just How Golden Is This Boy?
↵Among the many questions about the big De La Hoya/Pacquiao fight tomorrow night, maybe the most pressing for all involved in the promotion is this: Is Oscar recession-proof?
↵
↵Remember, this bout was made before the economy went into complete free-fall. And on paper, at least, it bore a striking similarity to De La Hoya/Mayweather – Oscar versus a charismatic pound-for-pound king, MGM Grand, huge amount of promotional hype, a
24/7
from HBO. No doubt both Oscar's Golden Boy empire and Top Rank, Pacquiao's promoter, felt like comparable numbers to the Oscar/Floyd event were possible, keeping in mind that Oscar/Floyd was the biggest pay-per-view success of all time.
↵
↵
Since the recession is officially on, those expectations are lowered considerably. But by how much? De La Hoya/Mayweather did 2.2 million buys worth of PPV business. One has to imagine that original expectations for De La Hoya/Pacquiao were for at least 1.5 million, with a possibility of cracking the two-million barrier. Now, with the fight costing $54.95 in these lean times, such numbers seem next to impossible. In
this article
over at MaxBoxing, Steve Kim says that he made a bet back when the fight was made that it would do over 1.5 million buys and that he now feels certain he's destined to lose that wager.
↵
↵I tend to agree with him. I'm guessing that a million buys will be the insider's Maginot line for this fight. Anything below a million I have to believe would feel like a disappointment given the star-power involved and the money spent on promotion. Anything above, I think, would be interpreted as quite a feather in De La Hoya's cap as a drawing force. As well it should be. Let's face it – getting that many folks to fork over 55 bucks for a single fight in this economy is no joke indeed.
↵
↵As a final note, as Kim points out in the piece I linked to above, there is good reason for fight fans to hope that tomorrow night's fight does
not
do good pay-per-view business. A short-sell on a fight of this magnitude would no doubt mean less fights on pay-per-view in '09 and more on free TV, a welcome fate in any economy.
↵
↵
And Speaking of 2009...
↵Bring it on, says Large. Not only do we have a late Christmas present to look forward to with the much ballyhooed Margarito/Mosley smackdown on January 24th, but another great fight was made this past week, one that flew under the radar because of the Oscar/Manny hype, but one that promises to be a
serious
bloodbath. I'm talking about Alfredo Angulo/Ricardo Mayorga, set for Valentine's Day '09. And it's on regular HBO! Hot damn! People, I ask you, could there be any more gentle, sensual, deeply passionate way to love your baby all freaky-naughty than to order in some takeout and watch these two stone-cold maniacs beat each other to a pulp as some pagan form of ritualized sadomasochistic aphrodisiac? The answer is no, no there is not. Rarely have I so looked forward to Valentine's Day.↵
This post originally appeared on the Sporting Blog. For more, see The Sporting Blog Archives.