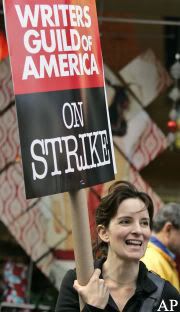 I have no idea how I missed this when I watched
30 Rock
on Thursday evening, but now that someone mentions it ... come on, fellas! It's so obvious. Everything's hockey these days.
↵
↵Seriously, why the mess was the Stanley Cup so prominently featured in the show's "plot" line this week. As Dan Hopper
points out
, it's just obvious and shameless (kind of) self promotion.
↵
↵⇥

↵⇥Could it be because the Stanley Cup Playoffs are occurring right now ↵⇥on NBC? At the risk of speculation, I'm gonna go ahead and say, ummm, ↵⇥obviously? ↵⇥

↵⇥

↵⇥I don't blame NBC for one second — ESPN cross-promotes the sh*t out of itself to the point where Mel Kiper accidentally had Michael Wilbon ↵⇥in the #3 slot of his NFL Draft board last week, and I didn't find the ↵⇥Cup's integration into the episode particularly off-putting, it was ↵⇥just sort of… weird. Weirder than Kenneth picking up human growth ↵⇥hormone so Tracy's tigers don't realize that he's aging? Eh, debatable. ↵⇥

↵
↵
↵Yeah, that makes total sense now. And it's not the first time this has happened either. Think back to Arrested Development having Carl Weathers and Tobias eat in Burger King too; it's something that television shows without huge ratings do frequently. Note that usually these shows are actually the best thing that particular network has to offer, which says so many bad things about most people that watch television. Except for you. You're great. Like Burger King. And the NHL. ↵
↵Via
Deadspin
↵
This post originally appeared on the Sporting Blog. For more, see The Sporting Blog Archives.