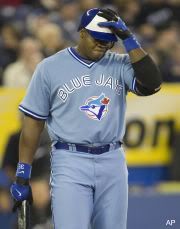 Okay, there are crazier things he could do than
release Frank Thomas
, but seriously: wtf, brah?
↵
↵I totally get that the Big Hurt's outward attitude was not cutting it anymore, but to just dice him like that. Well, the Jays actually had their reasons. See, Thomas has a 10 meelion dollar option for next season.
↵
↵⇥'You know what's going on and I know what's going on. We'll see how it ↵⇥plays out. I'm just a little frustrated right now. There are some ↵⇥things going on around here this year that I haven't been happy about.' ↵⇥
↵⇥Thomas could have been alluding to his contract situation, ↵⇥which has been an ongoing topic since the early stages of Spring ↵⇥Training. Under the terms of the two-year deal Thomas inked with ↵⇥Toronto prior to last season, the 39-year-old DH has a vesting option ↵⇥worth $10 million for the 2009 season. ↵
↵
↵So, yeah. 304 more plate appearances. Didn't matter if he struck out 304 consecutive times or hit 304 straight homers. He was getting 10 million bones from the Jays next year regardless. Now, he won't. ↵
↵
↵But you better believe he's gonna get picked up by someone. Hurt can still mash and the crazy thing, as was noticed this morning while going over his
stat sheet
, is that, assuming he's clean, he might not even get enough recognition for how unbelievably awesome he's been throughout his career. He won the MVP in 1993 and 1994, the latter because he slugged 38 homers. In the strike shortened season.
↵
↵In 2000, at age 32, he mashed 43 taters and finished second in the MVP ... to Jason Giambi. Who was probably clean. Most likely. Maybe. Hell, he hit 39 two years ago and 26 last season. The guy can mash. So he's gonna get picked up; it's just a matter of who.
↵
↵Tampa or Baltimore seem like potential destinations. Not only would both teams get to spite AL East rival Toronto, but they would add a guy that's looking to do the same thing. That, and eliminate having to play Eric Hinske or Aubrey Huff.
↵
↵We'll go ahead and set the odds at Frank Thomas (-300) over Barry Bonds on who gets signed first.↵
This post originally appeared on the Sporting Blog. For more, see The Sporting Blog Archives.