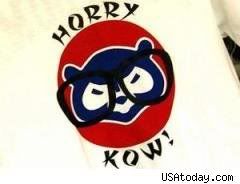 With all due respect to the Cubs fans that I know who are not horrible, if one were to take all the recent press re: Bleacher Bums and combine it to form one opinion, that opinion would be thus: "Cubs fans are the worst people alive."
↵
↵There are many things that could be considered the worst thing that they've done. For instance, BC brings a gathering of
the top five worst Cubs' fan moments
(the first video is so NSFW, by the way).
↵
↵And of course there are the "Horry Kow" t-shirts
they created
(see photo), which have since been
shut down
because it violated the Cubbies' logo. (And because it was racist, but whatever excuse you want to use.)
↵
↵⇥'I don't know what the creator of the shirt meant this to be, but they ↵⇥should make it right,'' Fukudome said through his interpreter after ↵⇥being shown one of the shirts Thursday. ''Maybe the creator created it ↵⇥because he thought it was funny, or maybe he made it to condescend the ↵⇥race. I don't know.'' ↵⇥

↵⇥Regardless, it's not funny. The image feeds not only ugly, arrogant ↵⇥and ignorant Japanese stereotypes, but also the stereotype of the ↵⇥obnoxious, profane, drunken, booing, garbage-throwing Cubs fan. ↵⇥

↵
↵
↵I couldn't agree more with Kosuke. Yeah, the idea is kind of funny, you know, if you don't care about using racist innuendo to make money. In other news that makes Cubs fans awesome, Fukudome wear is more popular than Ernie Banks and the "Win or Lose, We Still Booze" is a big seller. Which seems about right. ↵
↵
This post originally appeared on the Sporting Blog. For more, see The Sporting Blog Archives.