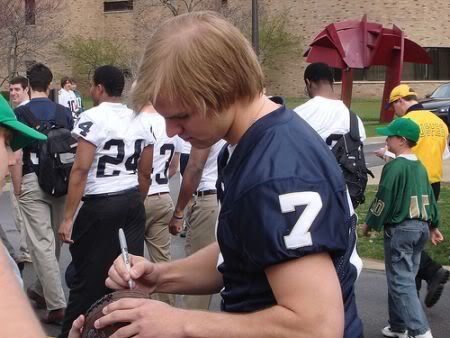 Now, I don't know if this qualifies as "news" or even "important", but according to
Busted Coverage
, Jimmy Claussen is going bald. Normally, I would say, "eh" but have you seen
the 'do that this guy rocked
back in the day? Unbelievable. You dress/look/act like that and you deserve some bad karma.
↵
↵
↵⇥

↵⇥Rich is a huge Jimmy Clausen fan. Ever since seeing the Speedo shot he was hooked on the Golden Boy. But we received an urgent message this morning from our photo editor. ↵⇥

↵⇥

↵⇥"Jimmy's hair is falling out!," Rich shouted. "And he's growing it out like Steve Nash.' ↵⇥

↵
↵Look, I don't know who BGR is, and I don't know what this Steve Nash business means; I just assumed Steve had his hair long because he was Canadian. Or kind of a hippie or something.
↵
↵What I do know is that it's a modern day miracle that Jimmy Clausen didn't end up on another
non-football related website
for kicking it like he did in high school. And if he's going bald, well, there's some kind of journalistic duty involved in reporting it.↵
This post originally appeared on the Sporting Blog. For more, see The Sporting Blog Archives.