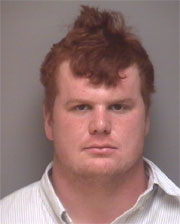 The Virginia Cavaliers, fresh off another invigorating season of excitement-tastic Al Groh football (Groh-mentum! Catch it now!), are taking that irresistible charm and charisma into the offseason in new and ever more fabulous ways. Any old football program would get someone arrested for public intoxication and having a fake ID, but a team charged with the zeal only Al Groh can give a team does things a little bit differently, if you know what I mean. And I when I say differently, I mean "
caught stealing beer from a gay club
." ↵
↵⇥Police say both men admitted to stealing beer from a cooler at the nightclub. Both face larceny charges. Roberts, who is 19 years old, is also charged with being a minor in possession of alcohol and with using a fake ID. ↵
↵Before Virginia Tech fans begin photoshopping pictures of the offending players in all sorts of amazing and interesting poses, let me at least interject the fact here that
Club 216
, the gay bar in question, is technically a "private club." This is a common dodge once employed by bars here in Atlanta: call yourself "a club," charge for a "membership fee" complete with card, and then stay open much later than public bars, Places like Club 216 often do a thriving business as after-hours bars, which likely explains why football players--not known for being models of forward-thinking tolerance of all lifestyles--would be there. They had beer, and they were open. ↵
↵That said, we bet the regular patrons of Club 216 thought the beer theft was a minor offense compared the real crime here: Will Barker's hair in the mug shot. ↵
↵
This post originally appeared on the Sporting Blog. For more, see The Sporting Blog Archives.