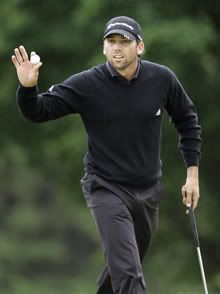 ↵Ben Curtis did not
heed my advice
and separate himself from the bad mojo associated with the Detroit Lions ... but he's making it work. As of this writing, Curtis leads by a stroke, two under through seven holes.
↵
↵Watch out, though: Sergio Garcia is on his way, having shot four under through eight holes. Sergio pounded out an eagle on Hole 2, the first eagle of the championship for any player on any hole. (Fredrik Jacobson of Sweden sunk a hole-in-one on 13 a little while later.)
↵
↵Only three golfers are under par period. Sergio's a shot behind Curtis, but that twinkle's dancing and that fist's a-pumping. What's more improbable: Sergio winning a major, or a guy winning anything in a Lions cap? We're about to find out.
↵
↵
UPDATE:
The answer is neither -- Sergio is just as incapable of winning a major as the Lions are of anything. Padraig Harrington stole the title from Garcia with a birdie/par on 17/18.↵
This post originally appeared on the Sporting Blog. For more, see The Sporting Blog Archives.