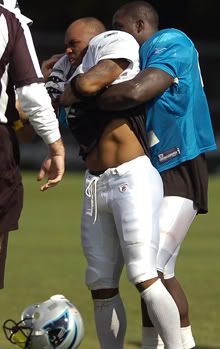 ↵The Carolina Panthers have made a bold statement today: it ↵is not OK to break your teammate's nose! Steve Smith will ↵be made a martyr for jerks everywhere, as the team
has suspended the angry wideout
↵two games for
decking Panther cornerback Ken Lucas during a training camp ↵argument
on Friday.
↵
↵It seems a bit late to try to teach Smith a lesson -- ↵remember: he also pummelled a teammate during a film ↵session in 2002 -- but obviously this nonsense couldn't go ↵unpunished. And the Panthers have gone a step beyond ↵suspending Smith. Coach John Fox has even told Smith
he can't do this stuff anymore!
↵
↵⇥"We're going to help him. He's still ours. Yet, he is going ↵⇥to have conditions. He knows what those are and we're going ↵⇥to move forward." ↵
↵You wouldn't think "don't knock out your teammates during ↵an argument" needs to be spelled out. But you'd be wrong.↵
This post originally appeared on the Sporting Blog. For more, see The Sporting Blog Archives.