↵
↵Notice anything odd about the Associated Press photo above? Like, perhaps that while the gentleman on the left -- Cuban Olympian Angel Matos -- wears taekwondo equipment, the fellow on the right is in a button-down and tie? That's because the guy on the right isn't Matos' opponent, he's the judge. And yes, he is about to get knocked the heck out.
↵
↵According to
an AP report
, Matos got heated when he was declared the loser of his bronze medal match for taking too much injury time. He then shoved the ref (he got off too easy) and delivered a roundhouse to the dome of the Swedish judge, Chakir Chelbat.
↵
↵Matos has been banned by the World Taekwondo Federation. (WTF? Yes, WTF.) After the jump, a brief stop motion exercise so you can see how Matos got to the bronze medal match with excellent form and execution.
↵
↵UPDATE: We've also added video of the kick. Enjoy it while it lasts.
↵
↵
↵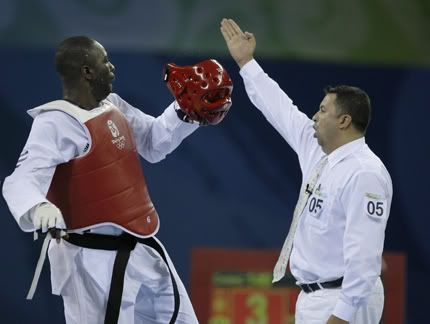 ↵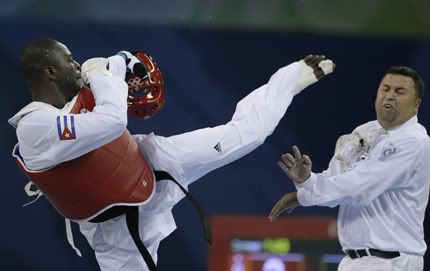 ↵
↵
↵
↵ ↵
↵
This post originally appeared on the Sporting Blog. For more, see The Sporting Blog Archives.