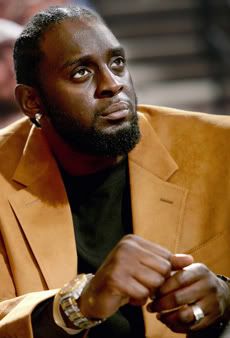 ↵The whole Darius Miles saga of the past several months would fit right into the Tom Clancy novel template ... except that the Miles situation has a good plot and compelling characters. It's a Russian spy thriller.
To save cap space
, Portland boss Kevin Pritchard allegedly spread word (against league rules) that Miles had failed a drug test (without mentioning it was for diet pills, not weed or steroids) and publicly told anyone who'd listen Miles' knee looked more sickening than the spawn of Phelps and Beard.
↵
↵We owe Danny Ainge and the Boston Celtics a debt of gratitude, then, for cutting through Pritchard's bullpucky and
signing Miles to a nominal contract on Friday
. Pritchard, in just a few years at Portland's helm, has made plenty of fair, borderline revolutionary moves. (Like, he actually calls other GMs! It's a big advancement in our beloved NBA.) But his handling of L'Affair D-Miles looks from the common vantage point to be just plain nasty.
↵
↵Blazers announcer Mike Barrett passionately defends his boss from wrongdoing in
a great interview with Blazers Edge
, but Ainge ain't buying it. Roster spots are the new cap space, and there's a measure of risk involved in signing Miles. Basically, Ainge is telling Pritchard he doesn't believe a word he says about Darius's knee. That's new territory for Pritchard, and for the NBA under Pritchard's reign.↵
This post originally appeared on the Sporting Blog. For more, see The Sporting Blog Archives.