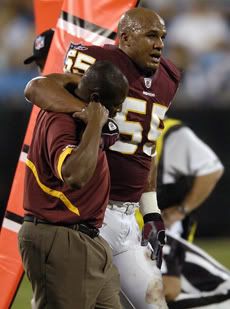 It's difficult to keep track of the myriad NFL injuries which happen every preseason. Just this weekend has produced a boatload.
↵
↵* Jason Taylor, who played 130 consecutive games with Miami,
went down in his first exhibition start as a Redskin
. MRI results on his sprained knee came in this morning, and
Taylor will be out up to two weeks
... which means opening night looks like a possible no-go.
↵
↵* Giants defensive end Osi Umenyiora
took a ride on a golf cart
after his left knee buckled without contact for any Jets in Saturday night's battle of New York preseason supremacy.
The Giants say there is no ligament damage
. That hasn't stopped
the Michael Strahan rumors
from ramping up. Again.
↵
↵* Carson Palmer got jacked by the Saints defense, and left the game early with "a bloody nose and busted lip,"
as the Dayton Daily News puts it
. Palmer isn't expected to miss games, but he did have to postpone his Glamour Shots sessions a few weeks. Dang non-refundable deposits!
↵
↵* The Raiders saw two potential starters -- wideout Drew Carter and fullback Oren O'Neal --
go down with season-ending injuries
against Arizona.
↵
↵* On Friday, Texans receiver Harry Williams
fractured a verterbra in his neck
. He regained feeling in his legs on Saturday.
↵
↵It's the same thing every year. Outrage is useless at this point. It's never going to change.↵
This post originally appeared on the Sporting Blog. For more, see The Sporting Blog Archives.