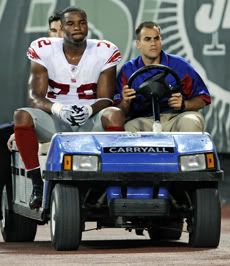 ↵As we
mentioned earlier
, Osi Umenyiora left Saturday night's preseason game against the Jets after his knee buckled. The Giants insisted Osi'd be OK, and Tom Coughlin gave the instant diagnosis that indicated Umenyiora's ligaments had been spared the shredder. Well, the diagnosis was wrong: the
Newark Star-Ledger
cites sources saying an MRI has
revealed serious ligament damage which requires surgery
. Osi is expected to sit the entire season.
↵
↵The injury came on a Brett Favre passing play. The Gunslinger hung in the pocket, with Umenyiora trying to turn the edge to get to Favre. Favre didn't complete the pass, but the damage was done. Of course, noodly Chad Pennington would have already dumped off the ball to a safety valve, fearing the rush and unable to get the ball 20 yards down the field. (This logic is infallible.)
↵
↵Speaking of Pennington: he'd have preferred I not made that joke. Chad P. used to ignore the mocking of his below-average arm strength.
Now, he's fighting back
. ↵
↵⇥"The perception is that way because I never defended myself -- I just let people talk," he said in a private moment last week. "But it's perception -- it's not reality. You get tired of hearing about it." ↵
↵Apologies, Chad. Just know the Giants really wish you were still offering your frozen ropes in New Jersey. They might still have a D-line.↵
This post originally appeared on the Sporting Blog. For more, see The Sporting Blog Archives.