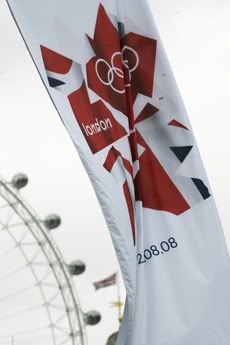 ↵After the glam of Beijing, London 2012 has a tough act to follow. In some books, the English will improve on 2008 by simply not
sentencing 70-year-olds to labor camps for asking for protest credentials
. But that's a canard: everyone knows your Olympic presentation is based not on the human rights you offer your people, but by the number of cyborg flamingoes you dispatch at the Opening Ceremony.
↵
↵As such, London is faced with the task of spending a ton of cash to absolve itself of materialist humiliation. Peter Berlin of the
New York Times
judges the likelihood Great Britain will blow its wad on magnificent showmanship and architecture
. ↵
↵⇥The first problem for London is simply one of cash. Estimates for the cost of the Beijing Games, apart from the Beijing organizing committee's operating budget, start at $40 billion. And that does not account for the difference in labor costs, which are considerably lower in China than they will be in London.
↵⇥
↵⇥Everyone involved with the London Games is clear on their numbers: a $3.7 billion operating budget for the organizing committee; a $17.2 billion budget for building everything. For London, the trap is to avoid being accused of wasting money on a short-lived event, while not being seen as skimping on the Games. ↵
↵I'm no mathlete, but that's a huge disparity. London does have some suitable structures already: the 02 Arena is still shiny, and Wembley Stadium hosted the NFL last year. I imagine decent soccer pitches won't be hard to find. Maybe they can let Michael Phelps and friends swim in the Channel?
↵
↵Still, London's best bet is to hope everyone forgets Beijing's spectacle and remembers China's poor imitation of democracy. The former shouldn't be too hard, considering our anemic attention spans. The latter -- well, forget it; few even acknowledged China's restraints on promised liberty
during
the Games. We may just have to look forward to the London Olympics as the modest, more ethically sound Games.↵
This post originally appeared on the Sporting Blog. For more, see The Sporting Blog Archives.