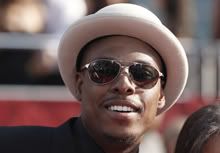 TMZ lit up email boxes this morning with the dubious tip that an NBA star --
greatest player in the world
Paul Pierce -- had been
pulled over in Las Vegas last night for suspected DUI
. The hook: Pierce passed three field sobriety tests and was released on the spot by the police. Instead of getting back behind the wheel, Pierce stuck his car in valet and got a cab.
↵
↵A few sports blogs ran with it, with one intrepid fellow even
suggesting -- without merit -- Pierce had been stoned
. (We're
definitely
getting more responsible
, yeah?) The biggest yuks come from questions about why Pierce would ditch his ride after being exonerated of drunken guilt. 72% of TMZ's brilliant audience thinks "something fishy" has gone down in Pierce's release.
↵
↵I don't get it. If Pierce was a little drunk, why are we cutting him up for hailing a cab? If he just, I don't know, didn't want to get pulled over again for Driving While Young, Black and Rich ... can you blame him?
↵
↵The TMZ-ization of the sports blogdome is not something we should strive for, people. The NBA has enough image problems without the invention of fake ones for cheap giggles.↵
This post originally appeared on the Sporting Blog. For more, see The Sporting Blog Archives.