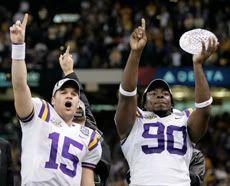 ↵That jerk Gustav is rolling through the Gulf of Mexico, ↵threatening our friends on the southern coast of ↵Mississippi, Louisiana and Texas. Officials
moved up the kickoff of LSU's ↵opener
against some cupcake school (
ahem
) to 10 AM local time (11 Eastern) ↵in order to make sure the game could slide in before Gustav ↵really makes his presence known.
↵
↵Ten o'clock is awful early for live football; tailgate ↵breakfast is a beautiful thing (chorizo!), but replacing ↵coffee with Bud Light and brandy is not advised. Still, you ↵have to believe a small part of the forward move of the ↵kickoff serves to keep Tigers fans a bit more sober, right? ↵Evacuations (if needed) are difficult enough without 70,000 ↵hammered young adults in the way.
↵
↵We hope first and foremost that everyone remains safe in ↵Gustav's path. We also hope, though, that LSU fans find a ↵way to have a good time this morning. Sport is the greatest ↵distraction. Some unadulterated joy (hopefully) before a ↵potentially gnarly reality is deserved for the folks of ↵southern Louisiana.↵
This post originally appeared on the Sporting Blog. For more, see The Sporting Blog Archives.