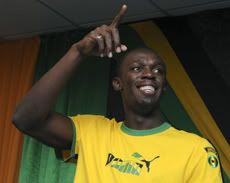 In an interview with
Sports Illustrated
(which isn't online yet), great American sprinter Carl Lewis "questioned Usain Bolt's stunning successes at the Beijing Olympics because Jamaica does not enforce random drug tests," according to
a story on the interview by the BBC
. But here's the quote the Beeb excerpts, which seems like far strong, more accusatory language. ↵
↵⇥"But to run 10.03 seconds one year and 9.69 the next, if you don't question that in a sport with the reputation it has right now, you're a fool. Period." ↵
↵For a man who obviously cares about the sanctity of his sport, Lewis sure isn't doing track any favors by pointing an accusatory finger at the game's biggest star. This is like Jack Nicklaus calling Tiger Woods' biceps chemically-enhanced, unprovoked.
↵
↵Of course we wouldn't be
surprised
if we found some HGH in Bolt's yams, given all that's happened in sports generally and track specifically. But what's the point of walking around questioning everything, as Lewis insists we must lest we be marred as fools? Enjoy the sport, worry about PEDs when there's, you know, proof he cheated.↵
This post originally appeared on the Sporting Blog. For more, see The Sporting Blog Archives.