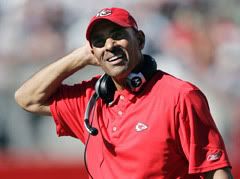 Herm Edwards finally brings innovation to the modern NFL with his college-style QB platoon. Miraculously, it doesn't work. Well, at least it hasn't so far.
↵
↵Damon Huard began the game with a few series of mediocrity before getting an errant pass picked off by Ty Branch. Tyler Thigpen replaced Huard and completed three passes in nine tosses. Beautiful. Sebastian Janikowski believes in Lane Kiffin, and nailed a 56-yarder early. After a Seabass chippie, the Raiders lead 6-0. Everyone still has a job.
↵
↵Elsewhere ...
↵
↵* Carolina loves the pressure, falls 10 points behind the Bears just so Jake Delhomme can lead a magical comeback later.
↵
↵* Fun game in D.C. with the Saints leading the Skins 7-6. Two turnovers and 60 yards of offense for N.O. Washington has put together some offense, but can't cross the threshold.
↵
↵* The Giants lead the Rams 10-3, the Bills lead the Jags 10-3 and the Vikings are up three field goals on the hurtin' Colts. Adrian Peterson has 115 more yards than Joseph Addai.↵
This post originally appeared on the Sporting Blog. For more, see The Sporting Blog Archives.