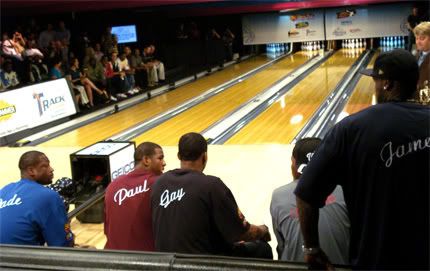 ↵

↵Sean Deveney covers the NBA for Sporting News. Today, he visits The Sporting Blog to report from Chris Paul's pro-am bowling tournament in Winston-Salem.
↵
↵It's not often you see a red carpet laid out over a linoleum floor. But, hey, when you're out at the AMF Lanes for an old-fashioned night of bowling here in Winston-Salem, N.C. with Chris Paul, LeBron James, Dwyane Wade, Rudy Gay and Kevin Durant, not much is going to surprise you.
↵
↵The capper on Paul's weekend of giving back here in his hometown was a bowling tournament—an actual, sanctioned PBA event, the Chris Paul Celebrity Invitational, which paired NBA players with pro bowlers.
↵
↵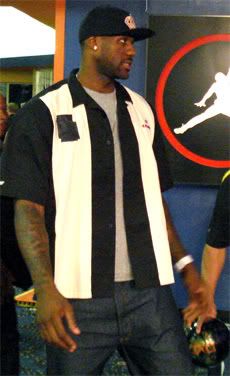 ↵I am not at liberty to say who won, because the event is going to be shown on ESPN in October and I'd hate to spoil the ending. But there are a few things I can say. One, the red carpet on the linoleum was funny, but just as funny was the sight of all five of the NBA guys sitting next to each other in bowling shirts, their names stitched on the back like five members of a Wednesday night league.
↵
↵Another thing: Rudy Gay is pretty danged funny, even if he is not such a good bowler. It's worth tuning in to the tournament just to see his antics. He may be the first bowler in PBA history to break dance after a strike. Though, when his partner, Doug Kent, tried to mimic Gay's breaking skills, he wound up looking like a duck being shot in the back. Kent's wife hollered to him, "Never do that again!"
↵
↵Oh, and Kevin Durant is a liar. When I asked him about bowling, he said he wasn't any good at it. But he fared much better than professed bowling lover Wade. Durant's form leaves something to be desired—he bowls as if afraid of doing damage to the lane's wood, dainty as a ballerina. But he keeps 'em straight.
↵
↵Overall, you'd be surprised at how many NBA guys are big bowling fans. "If I'm not on a basketball court," Paul said, "I want to be on a bowling lane."↵
This post originally appeared on the Sporting Blog. For more, see The Sporting Blog Archives.