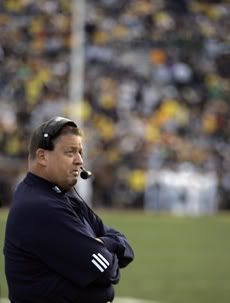 NBC will turn the mikes on Charlie Weis for a few seconds and, once Charlie completes a few words leading up to an obvious profanity, they intelligently mute the mikes and go back to the beleaguered announcing NBC announcing team. They currently stand tied at 7-7, but it is a deceptive number: before the final drive of this half for Notre Dame, they had converted exactly one first down and had looked just as arrhythmic as they looked in their 3 win debacle of 2007. Their only score came off a blocked punt followed up by a touchdown thrown to a wide open receiver standing over his defender who, true to form, had fallen down on the play.
↵
↵Notre Dame and any echoes must be put on hold yet again, since San Diego State, brought in as the tomato can to get 2008 off to the right breezy start, has looked just as good as the Irish. Read that again. It's no typo. In addition to this mind-melting statement, please also consider that the game next week against Michigan, which many had penned in as a win for the resurgent Irish after the Wolverines' struggles early, now looks like a bonified fight of two tattered, penniless aristocrats seriously down on their luck fighting over a moldy tuna sandwich they found in the trash. Watching will be an act of cruel, sadistic voyeurism. We can't wait.↵
This post originally appeared on the Sporting Blog. For more, see The Sporting Blog Archives.