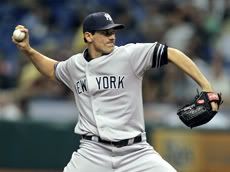 ↵If the Yankees were currently relevant, Carl Pavano's relative return to form -- two wins in three starts, a 1.33 WHIP -- would be a good, heart-warming story. Sunday Conversation stuff, maybe. But things are not hunky-dorey, with Pavano opening up to the
New York Times
about all
the blame the Yanks should receive
for the pitcher's troubled career. ↵
↵⇥ "A lot of times when I was in Tampa, I was really angry, because I'm away from my team, and I'm down there not getting the support that you feel you need to be successful," Pavano said. ↵⇥"You know people are doubting you that should be helping you," he added. "You know people are kicking you when you're down, and they should be picking you up. That's the nature of this environment." ↵
↵Pavano also notes that twice the Yankees balked at recommending Tommy John surgery, when the pitcher himself felt it was needed. The doctor who ended up making the Tommy John recommendation? The Mets team doctor.
↵
↵It's just sort of fitting that everyone would kick the Yanks while they're down. The mystique has been lost, at least temporarily.↵
This post originally appeared on the Sporting Blog. For more, see The Sporting Blog Archives.