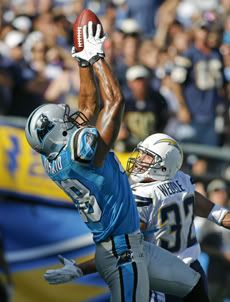 ↵Carolina slipped into San Diego for an afternoon game and pulled together a surprising 19-10 lead early in the fourth. The Chargers, being maybe the most popular Super Bowl pick around, didn't stand for the Panther insurgency and popped off two TDs -- one following a D.J. Hackett fumble -- to take back control 24-19. Jake Delhomme had 2-1/2 minutes to pull off the big upset.
↵
↵...
and he did it
! Well, he had some help: a magnificent Dante Rosario catch in the back of the end zone on the final play of the game. Rosario had to get up to corral the cannonball from Delhomme, but the youngster pulled it off. As you'd expect, Delhomme celebrated wildly. In his post-game interview, Jake looked ready to cry. It was quite touching (and uncomfortable).
↵
↵The Chargers have a pretty easy schedule (AFC East and NFC South, plus the cupcake AFC West), so all is not lost on one bad week. And come on, S.D. was two seconds from a win. But it's a shocking result considering how hotly the Chargers have been trumpeted this summer. For the Panthers ... the world is their oyster. The NFC is beyond wide open ... like Tony Romo's chin, which bled all over his postgame interview on FOX. You can read more about this tomorrow morning on TMZ.↵
This post originally appeared on the Sporting Blog. For more, see The Sporting Blog Archives.