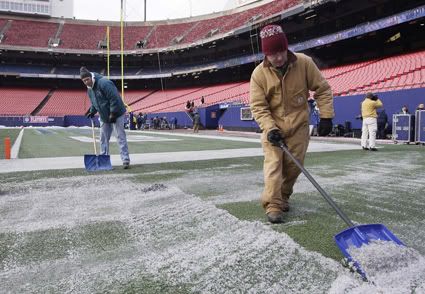 ↵
↵It's like 40 below zero in New York (or something), and it showed through the first half of Eagles-Giants. Each team's passing game has been a disaster, particularly in alternate quarters (Eli in the first, McNabb in the second) when the QBs had to deal with some strong wind. On N.Y.'s second drive, Manning floated a duck to Eagles back Asante Samuels, who took it back to the Giant's 2. McNabb snuck in for a score three plays later.
↵
↵In the second quarter, McNabb took his turn battling the elements, and wound up with a safety on an iffy grounding in the endzone and an interception that turned into three more for New York a bit later. The Eagles' QB spent to whole quarter blowing warm breath into his hands and switching out helmets. But on Philly's two-minute drill to end the half, McNabb came alive quite a bit, gave the business to Jack Frost, and got David Akers into range to give Philly
a 10-8 lead
at the break.
↵
↵Despite McNabb's last drive -- N.Y.'s defense seriously softened to prevent an over-the-top play -- everyone's waiting for Brian Westbrook to break off something or New York to turn to Brandon Jacobs in heavy dependence. Jacobs has looked surprisingly good given his injuries and Philly's tight defense, breaking off a 24-yard dart to set up one of John Carney's field goals. Should be a solid if sloppy second half.↵
This post originally appeared on the Sporting Blog. For more, see The Sporting Blog Archives.