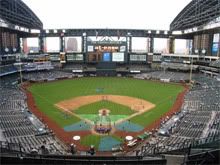 ↵AZ Snakepit's Jim McLennan read about Dodger Stadium's cockroach infestation from last year and wanted
to make sure the goodies at Chase Field
were a little less ... insect-y. To the food safety reports!
↵
↵McLennan found that not only is the home of the D'backs much cleaner than Dodger Stadium, it's actually one of safest dining environments in all of downtown Phoenix. ↵
↵⇥While there's always room for improvement, it seems that Chase Field, by all reasonable standards, is not anything to be concerned about, as far as hygiene goes, with a record which is perfectly acceptable for a venue of its size. On the other hand, more than a few places within staggering distance, could certainly do with getting their act together in this area. ↵
↵One place nearby has a review from local authorities so bad the FBI had to come in. I don't know what that means, but I know that cannont be good. Never mind, though. It's good to see our deepest fears about the status of ballpark hot dogs may be unfounded in some markets. I still have my doubts about Orlando Cependa's
Cha Cha Bowls
, but it's worth the worry regardless.↵
This post originally appeared on the Sporting Blog. For more, see The Sporting Blog Archives.