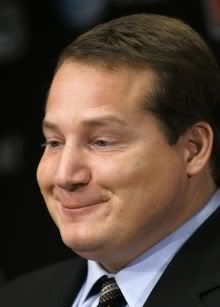 ↵Step #1 in endearing yourself to a rabid but negative-by-nature fan base:
paint over a mural of the team's great figures from the past
. ↵
↵⇥[Eric] Mangini, meanwhile, has been doing some football stuff, hiring a staff, watching tape, that kind of thing. But he also has asked for the interior of the building to be painted. Seems he didn't like the way things looked. And he asked that a mural of the Browns' hall of famers near the players entrance be painted over. ↵
↵Jim Brown, Paul Brown, Otto Graham, Bernie Kosar, Dante Lavelli -- feh. The
Akron Beacon-Journal
's Patrick McManamon also writes that Mangini is holding Romeo Crennel's old assistants in limbo by refusing them permission to interview for other jobs while the head coach tries to figure out with of his old Jets coaches he'll get to bring to Cleveland.
↵
↵Changing the culture is cool and all. Ta' hell with the past! But instead of worrying about the mural, Mangini might instead get some Lysol for the (allegedly)
staph-ridden locker room
.↵
This post originally appeared on the Sporting Blog. For more, see The Sporting Blog Archives.