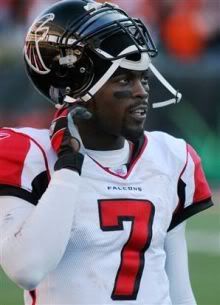 ↵God bless NFL.com's Adam Schefter for trying to figure out why on Earth the 49ers would interview former Falcons head coach Dan Reeves for the open offensive coordinator position.
But this seems a bit ... thin
. ↵
↵⇥The 49ers are interviewing former Falcons head coach Dan Reeves today for their offensive coordinator vacancy. Reeves was Atlanta's head coach in 2001, when the team traded for the No. 1 overall draft pick to use on QB Michael Vick. One day earlier, the 49ers interviewed Ravens quarterbacks coach Hue Jackson, who used to coach Vick in Atlanta. And San Francisco also has expressed some interest in former Falcons wide receivers coach Mike Johnson, who coached quarterbacks in Baltimore and also knows Vick well.
↵⇥
↵⇥So, some of the candidates the 49ers have begun to focus on all have connections to Vick, who could be back in the NFL as early as this summer after being released from federal prison. ↵
↵Next up: Marcus Vick will be signed as the fifth receiver, Frank Beamer will take over special teams, Matt Schaub will be hired as a quarterbacks coach and, I don't know, Ray Buchanan will make a comeback. Might as well make the full-court press for a guy who hasn't played in two years and might not get reinstated by the league right away, even if he is released from a federal penitentiary this summer.
↵
↵Folks typically overstate the impact of San Francisco's liberal values. But people in the Bay Area DO NOT mess with animals. The 49ers will be booed roundly and frequently by the locals if Vick is acquired. Roundly
and
frequently. (And actually, Raiders fans might boo even more roundly and frequently.)↵
This post originally appeared on the Sporting Blog. For more, see The Sporting Blog Archives.