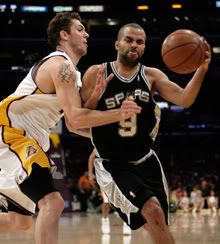 TSB NBA writer Bethlehem Shoals and I chatted during the first 2-1/2 quarters of Spurs-Lakers. These remarks grew out of our observations. Few of them have to do with the game itself.
↵
↵
Shoals:
Why are the Spurs so stingy with actually showing the public their humor? It's so famous, so oft-talked about ... even offered up as the reason people should not hate them. And yet all we've gotten are a few anecdotes about people being hit in the nuts and those grocery store commercials. If I were that franchise, I'd release a comedy album.
↵
↵
Ziller:
I bet Tony Parker is an excellent straight man. (That wasn't about Eva.)
↵
↵
Shoals:
Because he doesn't know English? Or because he's French and thus inherently dry?
↵
↵
Ziller:
He seems like a person who never pays attention.
↵
↵
Shoals:
How can a team with so many foreign players thrive off of humor? Are all their jokes about farts or something?
↵
↵
Ziller:
Are Argentines funny by nature? Both Manu and Oberto are Italian Argentines.
↵
↵
Shoals:
I imagine they have a different sense of humor than Americans, even if they speak the language well.
↵
↵
Ziller:
Duncan probably has the most foreign sense of humor.
↵
↵
Shoals:
All sarcasm. Yeah, I don't actually see who on that team would be feeling locker room humor, lowest-common-denominator, universal language jokes I retract my original statement. They don't want anyone to see how odd their humor is.
↵
↵
Ziller:
Maybe their humor is so next-level they do show it regularly but we're too simple to notice. The Spurs would never laugh at this McDonald's cappucino commercial, because to the Spurs not knowing about Paraguay isn't funny.
↵
↵(Gregg Popovich talks to Lisa Salter during a timeout.)
↵
↵
Shoals:
So those Popovich comments were all tongue-in-cheek, and I just missed it?
↵
↵
Ziller:
Yes, and so did I.
↵
↵***
↵
↵(Jeff Van Gundy argues that Deron Williams and Paul Millsap should be on the West's All-Star team.)
↵
↵
Shoals:
I think Van Gundy is just trying to prove that he knows more than Mark Jackson. He just said there needs to be a 13th man who gets there for coming out of the blue. So he said Von Wafer should be on the team.
↵
↵Why is everyone talking about whether Melo deserves to go? It's moot. They're not going to select him, then replace him immediately.
↵
↵
Ziller:
I can't believe Durant's getting no love. I thought he had hype?!?
↵
↵
Shoals:
I bet very few writers have actually watched a Thunder game this year.
↵
↵***
↵
↵
Shoals:
The Spurs have a weird version of territorial rights. Like did you ever doubt that Roger Mason would end up on the Spurs some day?
↵
↵
Ziller:
That's a good point. Although before last year it looked like Mason could have been out of the league. How do they do this? John Salmons should be a Spur. Whenever I think of Stephen Jackson it's of him in a Spurs uniform.
↵
↵
Shoals:
I know some people think the "he was a Spur" point is used too often to defend Jackson, but he really did fit on that team, right down to having zero outward swagger even as he was winning games for them. Quick, unlock the nature/nurture toolkit.
↵
↵
Ziller:
Maybe it's the presence of all the one-time losers, like Bowen. The whole "you're replaceable" thing.
↵
↵
Shoals:
So all the humility is really fear and self-doubt? Like they're a cult or 1920's rubber processing plant?
↵
↵
Ziller:
But how did they break Duncan? Is he just susceptible to pressure from authority?
↵
↵
Shoals:
I think he's above that kind of thing.
↵
↵
Ziller:
So he's a true believer?
↵
↵
Shoals:
He never causes problems, and what he excels at is inherently approval-ready. I don't think the Spurs could be that way without him. He's their shining example. That's kind of a boring point, but don't you think it's more than just fear when you've got positive reinforcement through the example of Duncan (and winning)?
↵
↵(After a foul, Duncan and Gasol pat each other down.)
↵
↵
Shoals:
Why did Duncan and Gasol just go out of their way to touch each other a bunch? Are they Secret Santas with each other, and just found out now?
↵
↵
Ziller:
Jason Terry and Kevin Garnett did the same thing earlier. I think there is some Valentine's Day jostling going on. By the way, this dunk contest on V-Day thing is either wholly stupid on the NBA's part or the impetus for some true brilliance from the dunkers.
↵
↵
Shoals:
I think they put Rudy in there for the ladies. He seems like he'd be a corny and into V-Day.
↵
↵
Ziller:
Rudy Gay?
↵
↵
Shoals:
Fernandez. Rudy Gay does want to learn to play the piano so he can get ladies, though.
↵
↵***
↵
↵
Shoals:
I have a question about home court advantage: when two good teams play, does it make any sense to say that home court advantage is what decides a close game down the stretch? Or could those 3-5 points easily be the result of something else? Like, the only times home court shows up is when there's a huge margin of victory.
↵
↵
Ziller:
Home court is there from the beginning. It's built in. Like, if two equal teams play equally well, the home team wins. But obviously the road team can play well enough to overcome it, or can play well but not well enough to overcome it.
↵
↵
Shoals:
That makes it sound like home court can be overcome early in a game. I just have trouble believing that, if the two teams are equal and good, one's going to suddenly get ratteld down the stretch by the fans.
↵
↵
Ziller:
It's the refs getting rattled. It's amazing what the subconscious does when you've 17,000 Mike D'Antonis complaining about calls down the stretch.
↵
↵
Shoals:
So home court advantage matters to players on young/bad teams, but refs when you get into the upper echelons?
↵
↵
Ziller:
That makes intuitive sense to me.
↵
↵***
↵
↵(Kobe is asked to name his five favorite players growing up. His answers, verbatim: "Michael, Larry, Magic, Kareem, Bill Russell.")
↵
↵
Shoals:
What does it mean that Kobe is first-naming all these HOFers? It's kind of prick-ish ...
↵
↵
Ziller:
Yeah, that's so lame.
↵
↵
Shoals:
The Kobe we don't see much anymore. Though he did call Russell "Bill Russell." Well, you figure he knows Jordan and Magic. Everyone calls Kareem "Kareem."
↵
↵
Ziller:
How could he not have Dr. J?
↵
↵
Shoals:
Mostly it was "Larry" that threw me off. How could he leave off D'Antoni?
↵
↵
Ziller:
How could he leave off Jerry West? ("Jerry West" has to be a full name.)
↵
↵
Shoals:
Otherwise people might think he meant David West. Or Jerry Lucas.
↵
↵
Ziller:
Wait, he never watched Bill Russell. There was no ESPN Classic or NBA TV!
↵
↵
Shoals:
I would've guessed Jordan, Erving, West, D'Antoni, Stockton.
↵
↵
Ziller:
That's about right. I'd go Dantley over Stockton. Or Magic.
↵
↵
Shoals:
Well, I figured he'd want to prove he's unselfish.
↵
↵
Ziller:
He should have just been really honest and said "Michael."
↵
↵
Shoals:
I could guess everything that's about to happen in this Magic/Phil interview.
↵
↵***
↵
↵(After an omitted discussion of the potential for Kobe to test the market this summer ...)
↵
↵
Shoals:
It's amazing how much better than Luol Deng Durant is.
↵
↵
Ziller:
It's all length.
↵
↵
Shoals:
Deng is pretty long.
↵
↵
Ziller:
And that's why he's good. But Durant is KG long.
↵
↵
Shoals:
I think Durant's going to be a very good defender sometime in the near future. You can't have his kind of attitude and be satisfied with being uneven. He already picks up a lot of blocks and steals, and can get in anyone's way. If he gets a little stronger, then he'd be impossible to get around or over.
↵
↵***
↵
↵
Shoals:
Giant robot mosquitoes and demonic electro are not at all what I associate with buying a hybrid. I guess they're trying to scare me into one. It's like using Terminator as an advertisement for home bunkers. "You can stay alive and fight the robot armies!"
↵
↵
Ziller:
That's smart actually. The end of the world is a great motivator.
↵
↵
Shoals:
I don't want to be alive in a post-apocalyptic wasteland.↵
This post originally appeared on the Sporting Blog. For more, see The Sporting Blog Archives.