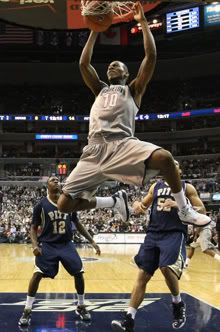 ↵Few things are better to wake up to than the sound of Dick Vitale's voice. (And by "few things," I mean "everything.") Pitt visited Georgetown for an early game, and I bet DeJuan Blair met curfew last night. Blair had 20 points, 17 rebounds and three assists, and with fellow Panther Sam Young absolutely dominated the glass on both ends. Pitt
won by 16 and moved to 14-0
.
↵
↵Pitt captured
more than half
of all offensive rebound opportunities, which is all sorts of ridiculous. And this came against a strong team with an All-World center in Greg Monroe.
↵
↵It's hard to argue the Hoyas exhibited softness -- this team salted Hartford to the tune of a double-digit win on Monday, shackling Hasheem Thabeet in the process. Pitt just came out like cannonballs with sheer dominance in the lane. (Don't let the photo fool you.) It didn't help that Georgetown's zone left passing lanes wide open, allowing the Panthers to escape its awful deep shooting. On the other end, no one but DaJuan Summers could shoot straight, and Pitt figured out how to guard him in the second half.↵
This post originally appeared on the Sporting Blog. For more, see The Sporting Blog Archives.