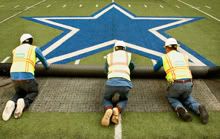 The Cowboys have been easy to hate since the birth of man, and easy to make fun of for the better part of a decade. But just in case your standard lines of attack have been getting stale, adopted receiver Roy Williams -- acquired from the historically inept Lions midseason -- offers some more grist.
↵
↵On radio Friday, Williams dissed the dysfunctional Cowboys locker room and coaching staff.
Brian Davis of the Dallas Morning News annotates
: ↵
↵⇥He said the Cowboys had "the easiest offense to figure out" and that his former team, the 0-16 Detroit Lions, practiced harder than the Cowboys. ↵
↵He complained about running the same route over and over and over ... to the point where opposing cornerbacks asked why he ran the same pattern every passing down. And no offense to Rod Marinelli and the creative minds who lead the Lions gameplan this season, but when a Lion calls your offense simple and your effort lacking -- wow. That's like a Pittsburgh Pirate calling another team cheap, or a Golden State Warrior laughing about someone's poor defense. Just brutal.↵
This post originally appeared on the Sporting Blog. For more, see The Sporting Blog Archives.