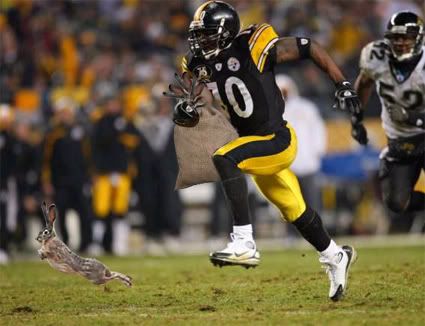 ↵
↵Super Saturday has come without incident, assuming Jeff Reed didn't zip a speedboat to Port au Prince for some pre-Bowl debauchery. The only gasp-drawing storyline from the week has been Santonio Holmes' admission of youthful drug pushing back in his bleak Florida hometown. Usually this would be worth thousands of columnist words and a string of screaming heads. But Holmes, ever the showman, managed to upstage his own ill-timed admission by making another:
growing up he'd hunt rabbits for cash
. ↵
↵⇥"If you're not fast enough to chase them, you've got to throw that cane stalk at them. When they're sitting in the bushes and you walk up on them, you just grab them by the body, break their neck so they die instantly, throw them in the backpack and keep moving. We're out there hunting just like people would do if they were trying to survive.'' ↵
↵Bad week for rabbits, between the death John Updike and Holmes' stirring explanation here. But hey, someone's got to supply the fur for Ray Lewis' coats.
↵
↵We'll see you Sunday afternoon with the Super Sunday live blog. Make sure your
center is tucked in
.↵
This post originally appeared on the Sporting Blog. For more, see The Sporting Blog Archives.