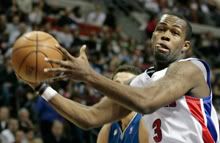 Toward the end of last season, it started to look like Rodney Stuckey, not Amir Johnson or Jason Maxiell, would be the centerpiece of Detroit's youth movement. Then in the playoffs, Stuckey filled in admirably for Chauncey Billups, when supposedly he wasn't a point guard. The Allen Iverson trade was generally thought of as replacing Billups with AI, but in fact, it's best seen as opening the door for Stuckey to step in and prove he's Billups, Part 2. Which raises something of a problem for the Pistons.
↵
↵Stuckey's been on an absolute tear lately, the kind that, if nothing else, gives us a glimpse into his enormous potential. For the full breakdown, complete with overheated enthusiasm, peep
NBA Mate
(consider a name change, maybe?). The gist, though, is that Stuckey's emerged as an unstoppable yet prudent scorer, quintessential team player, capable distributor, and a beast with both the stats and intangibles that make the whole league sit up and pay attention. Kind of like Devin Harris, minus the years of previous observation. All that's missing—all that's keeping him from truly, clone-like replacing Chauncey, is a long-range game that's still under construction.
↵
↵But, as the aforementioned post notes, all this has come with Rip Hamilton on the shelf. Playing Stuckey, Iverson, and Hamilton in the starting line-up may work on occasion, but besides the lack of size, there's the question of exactly how they interact. It's painfully clear that Stucky not only needs minutes, but needs to be installed permanently in the starting line-up. The question, then, is what happens with All-Stars Iverson and Hamilton. Rip is a shooter; Iverson a scorer, like Stuckey. Is it possible we see AI come off the bench to energize the second unit, or (if this is possible) moved again before the deadline? It sounds far-fetched, and yet what once looked like a risk-free rental has actually turned into a real conundrum for Michael Curry.↵
This post originally appeared on the Sporting Blog. For more, see The Sporting Blog Archives.