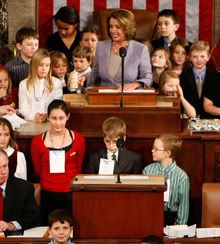 Like many warm-blooded Americans, Cliff Stearns wants to watch Thursday's BCS Championship without work getting in the way. His job? Congressman. Hence the problem: Congress has a lot of, um, work to do to, um, fix the country. And Thursday, about the time Florida and Oklahoma kick off, Congress will be taking up a fairly important task: certifying the results of the electoral college to make Barack Obama president.
↵
↵The Associated Press reports Rep. Stearns -- who represents the Gainesville area --
asked Speaker of the House Nancy Pelosi to reschedule
the certification vote and others scheduled for the later part of Thursday and Friday. ↵
↵⇥"As you may be aware, on Thursday January 8, the University of Florida and the University of Oklahoma will play for the national football championship. Members of the Florida and Oklahoma delegations have expressed interest in attending the game as the congressional schedule allows. However, votes are currently scheduled to continue into Thursday night and Friday afternoon. We ask that you move these votes to either Wednesday and/or Thursday morning to allow Members to attend this historic game." ↵
↵Historic? Not to demean the achievements of the Honorable Tim Tebow, but isn't the certification of a new leader of the free world during a time of massive national and global crisis just
a bit
more, um, historic? The BCS Championship happens every year. (Twice some years,
the Utah attorney general would argue
.) Win or lose, Sam Bradford is unlikely to change the world forever Thursday.
↵
↵It's a bit of a slippery slope, too. I mean, in a month someone will be requesting delay on a Friday afternoon universal healthcare vote because of a historic cliffhanger on
All My Children
.↵
This post originally appeared on the Sporting Blog. For more, see The Sporting Blog Archives.