From Bright Side of the Sun, some analysis of last night's win for Phoenix:
At Suns Media Day a couple months back, Steve Nash was asked how he felt. The 36 year old point guard looked down and thought for a moment, then replied with a smile: "joyous." The joyous Steve Nash led the Suns with 30 points in a hard fought come-from-behind victory against the Miami Heat tonight, 104-96. While going 4-5 from three-point range, Nash also became the Suns All-Time 3-point leader.

Nash is playing as well as he's had in at least two or three years.
Last night's heroics from Nash come on the heels of his game-winner last week, which he awesomely-termed an "old white guy" shot. And it prompts a question: Steve Nash is 36 and has been "due to decline" for at least a few years now, and yet, almost like an accident of nature, Steve Nash got better when he left Dallas, and each year since, it seems like he's become more and more valuable for Phoenix. But... It's not supposed to work that way.
People get old, their skin gets saggy, and they stop caring as much about appearance, and soon… well, Shaq and Meg Ryan have followed the same career arc. In the 90s, nobody compared. Now? It's legitimately difficult to watch either one of them.
By contrast, most guards get old like Jason Kidd and Marisa Tomei. They are both still great—rent Before the Devil Knows Your Dead—but there's been an unmistakable decline. When superstars in the NBA get older, like leading female actresses, they just have to learn to accept lesser roles, and sometimes have to do things that they never would have considered five years ago (like a nude scene, or coming off the bench).
When they can't do that, like Allen Iverson in Detroit last year, the results can be disastrous. Overnight, you can go from the toast of the league to borderline untouchable. Nobody wants to build a team around 35-year-old Iverson, just like nobody wants to build a movie around 40-year-old Cameron Diaz. They have Dwyane Wade and Kristen Bell for those roles now.
And yet, Steve Nash is the ultimate exception. Because of his craftiness, he's more watchable now than ever before. He's always been good, but as the years pass, it really seems like he's getting better. His team's are still running and gunning, he's still a dead-eye shooter, and as he proved against the Clippers last week, he can still carve up a defense in crunch time.
For years, he's scored about 15 points-a-game and dished 10-11 assists. But more than that, he's kept the Suns competitive while the roster has slowly crumbled around him. Even last season, without Amare, the Suns were still a decent team, all because Nash was so good. The obvious parallel, here, is Jennifer Aniston.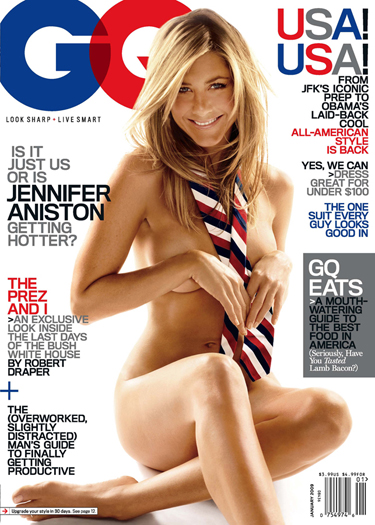 She's always been hot, but as the years pass, she somehow keeps getting hotter. Friends-era Aniston was like Nash on the Mavericks—very good, but nothing particularly remarkable. And when she left Friends and Nash left Dallas, we all assumed would gradually decline from there. That's just the way things work.
But then, aging played a trick on us, and both have gotten exponentially better as the years progress, to where Aniston, 40 years old, is among the hottest actresses in Hollywood, and Nash is one of the NBA's best point guards at 36 years old. HE SHOULDN'T BE THIS GOOD—and yet, there he was last night, outshining Dwyane Wade, a top 5 player in his prime, using old white guy layups and spot-up threes to dismantle an undefeated team.
Like Jennifer Aniston, I don't understand how any of this is happening with Nash and the Suns. They shouldn't still be relevant. And who knows how long it'll last, for that matter. But damnit, let's enjoy it while it lasts.