This post was written by Avi "Shoefly" Korine for The Rumble.
↵
↵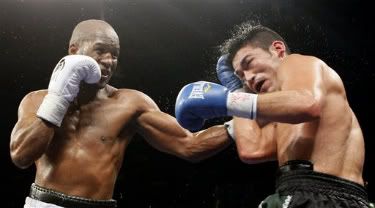 ↵
↵
↵Bernard Hopkins must have a little hole in his heart this ↵week after the disappointment of losing his opportunity for vengeance against ↵longtime rival Roy Jones. Hopkins and Jones had finally agreed to terms after a ↵decade of failed negotiations, but Jones was derailed by a Danny Green right ↵hand.
↵
↵Let's hope Jones retires, but Hopkins still has some work to ↵do. He was dominant in his victory over Enrique Ornelas and is now looking for ↵new challenges. Hopkins will be 45 in a few weeks.
↵
↵Let's look at some options:
↵

↵Chad Dawson:
Dawson is regarded, along with Hopkins, as one ↵of the two best light heavyweights in the world. Dawson is a southpaw with quick ↵hands and victories over Tomasz Adamek, Antonio Tarver, and Glen Johnson. ↵Hopkins Is great against southpaws, but this is a tough one for him.
↵
↵
Read the rest of this entry >>
↵
This post originally appeared on the Sporting Blog. For more, see The Sporting Blog Archives.