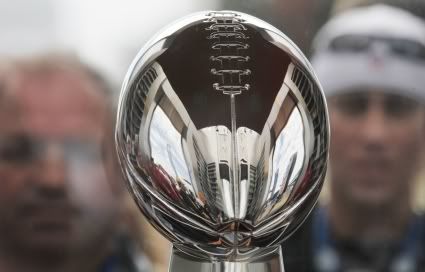 ↵
↵
FIRST QUARTER LIVE BLOG: GO HERE
↵
↵The pre-game shows started hours ago, but as the afternoon wears on it's really time to strap in for the festivities. I'll be here for the next seven hours or so live blogging right here in this thread.
↵
↵Updates will come after the jump. Click it, stay there and occasionally hit F5 to refresh.
↵
↵
ENDLESS PRE-GAME
↵
↵
3:13 --
Keith Olbermann just said "John Legend" makes him think of Larry Bird. I'm not the only person working drunk!
↵
↵
3:23 --
Conan O'Brien is already the most lucid NBC analyst after learning how to kick in a slapstick bit. Jordana Brewster is in second place. That says more about the analyst panel than it does Jordana Brewster.
↵
↵
3:34 --
Question #1: why is Bob Costas interviewing Conan? And why is Conan speaking on league matters with authority? That 11:35PM time slot comes with more perks than I'd ever guessed ...
↵
↵
3:39 --
A little bit of meaningless meta:
↵
↵1) A lot of people buy a new T.V. for the Super Bowl. This is weird, vaguely offensive and extremely telling considering the incredibly ironic CNBC news update that appeared a few minutes ago. (
"Live from the biggest hypercapitalistic display of annual excess America can offer ... everyone is losing their jobs, their houses and their will to live. Now to Al Roker, live with Dwayne "The Rock" Johnson!"
) Anyways, to show how dedicated I am to the craft of poorly considered real-time humor/analysis blogging, I bought a new laptop yesterday. My old one crapped out during the bye week, and I don't think you all want a seven-hour live blog of txt mssging spk. Unlss may B u do? Lemme no.
↵
↵2) I'm actually distracted by Thunder-Kings on picture in picture. I haven't missed a Kings game in about a season-and-half. I usually watch DVRed ... but I never know the result until I watch. It's almost ritualistic at the Casa de Ziller. As such, until roughly 5:30, I'm a bit distracted by Nick Collison and Spencer Hawes thumb-wrestling in the corner of my T.V. Sorry.
↵
↵
3:49 --
I think Costas just mocked Sarah Palin. Earlier, Conan O'Brien offered analysis of NFL kicking.
NBC Nightly News
anchor Brian Williams is telling a story about meeting Bruce Springsteen as a Jersey youth. Later, Steely McBeam shows us how to make a perfect pupusa and Rodney Harrison offers a lesson on humility.
↵
↵
3:59 --
If you can't live another moment without knowing what songs The Boss will play at halftime, Sports By Brooks
purports to have the list
.
↵
↵
4:07 --
Cris Collinsworth is in what he calls "Bill Belichick's inner sanctum." I have never been so worried for Cris Collinsworth's life. There are roughly 342 television screens, and I think I saw a few medieval weapons in there.
↵
↵
4:13 --
Didn't one of Nostradamus' armageddon predictions involve a multiple-week box office champion about a mall cop on a Segway, at a sporting event red carpet hosted by a weatherman with a stapled stomach, and the Arizona Cardinals in the Super Bowl? Where did I leave that shotgun and case of pork and beans ...
↵
↵
4:22 --
If I'm representative of the modern nerd class, thousands of NBC viewers just visited Journey's Wikipedia page to find out if the band has always had a young Filipino lead singer.
↵
↵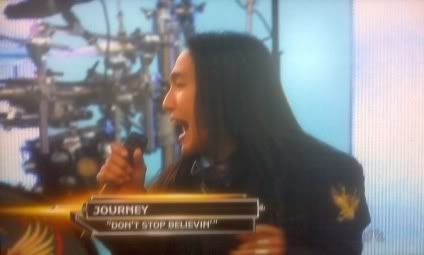 ↵
↵I believe this guy is younger than the song he is singing.
↵
↵
4:27 --
Nightmare Fuel #1: Mike Holmgren, on the subject of the traditional Gatorade shower, says, "It's the good kind of sticky" while giving Costas a knowing nod and grin.
↵
↵
4:37 --
Springsteen just admitted he finally relented and agreed to perform at halftime of a Super Bowl ... because he has a new record out. America, yeah! Following that, Tina Fey blurred the line between her own self and her character Liz Lemon from
30 Rock
. Humans are becoming brands before our eyes.
↵
↵
4:43 --
NBC is offering up the requisite hyperdetailed breakdown of David Tyree's catch last year. Belichick is no doubt wrecking his inner sanctum.
↵
↵
4:53 --
The sheer size of the NBC pre-game program is mystifying. Like, Costas complained at its length a bit ago after reciting a poem about bullfighters. (Not a joke.) Heading into a commercial, Costas just noted that soon we'll hear about Jay Leno's short football career. That
screams
filler. I bet Leno didn't want to film the segment. I bet no one at NBC wants to air it. But when you have five hours of pre-game ... you need to hit every personality. So we get a Leno segment no one in the world wants.
↵
↵
4:57 --
The aforementioned clip just aired. I underestimate Leno's love to tell terrible jokes.
↵
↵
5:18 --
Credit Matt Lauer for avoiding the subject of football for a huge chunk of his live interview with President Obama. Given the state of things, a typically kitsch OMG U LUVVERS THE STILLERS AND DA BEARS?!? LOLOL! segment would feel stilted and come off as a monument to frivolity at a time when some measure of seriousness is constantly warranted. Some might think this sobering talk is depressing given the light nature of football, but it'd be insulting to ignore tomorrow morning's world talking to the president.
↵
↵Of course, Lauer eventually relents to normalcy with a BCS question, some Giants gloating, jokes about Jessica Simpson's Twinkie habit. God bless America.
↵

↵5:28 --
I'm not saying that those of you with NBA League Pass should be watching the final moments of Thunder-Kings instead of John Madden's fellation of Mike Tomlin ... but you should be watching the final moments of Thunder-Kings. All 238 fans in attendance are ON! THEIR! FEET!
↵
↵
5:39 --
Anquan Boldin is not currently yelling at anyone, FYI.
↵
↵
5:42 --
I guarantee you that no one inside ARCO Arena is happy that Thunder-Kings has gone to overtime.
↵
↵
5:48 --
Jerome Bettis notes that in his early days, Ben Roethlisberger was asked to not make mistakes. This seems like an idea that could go unsaid. Do coaches also tell their QBs not to drop acid with breakfast on game day? (If not, I think we've discovered the justification for David Carr's career.)
↵
↵
5:54 --
I don't mean to harp on Thunder-Kings, but the hilarity of Sacramento's broadcast team sitting courtside after the Kings OT win wondering if any Kings will come over for the customary postgame chat, only to watch the entire roster bolt for the locker room with the Super Bowl thirty minutes away ... high comedy.
↵
↵
6:04 --
Now
we have reached the "Kickoff Show"? You could told me three hours ago, jerks. However, we did learn a lot from the marathon pre-game show: that Bill Belichick's inner sanctum is filled with televisions and swords, that President Obama wears rather tight slacks on the weekend, that Journey has a 14-year-old Filipino lead singer, and why Jane Seymour decided to work with Kay Jewelers. A net victory for humankind, I'd say. Thanks, NBC!
↵
↵
6:09 --
Here come the Steelers. Troy Polamalu's hair (brought to you by Herbal Essence) has never looked for voluminous.
↵
↵
6:10 --
Here come the Cardinals. And there go the Cardinals. I believe the Birds got 20% of the airtime the Steelers did. THE EAST COAST BIAS BEGINS! Super Bowl XL NEVER FORGET.
↵
↵
6:17 --
I can't wait for Russell Crowe's rendition of the Australian anthem in respect for Ben Graham. (He's Australian, have you heard?)
↵
↵
6:19 --
The best anthems burst with context. (See: Whitney Houston in the first Gulf War.) As such, the tragedies that have befallen Jennifer Hudson make it impossible to not feel that one.
↵
↵That said, you can ruin patriotic feelings in half-a-second by showing Ben Roethlisberger chomping on his gum and Matt Leinart existing.
↵
↵
6:28 --
Coin toss won by the NFC for the 12th straight season. CONSPIRACY! The Cards defer to the second half.
↵
↵
6:29 --
We are told F. Scott Fitzgerald did not know Kurt Warner. But who really
does
know Kurt Warner? Think about that.
↵
↵
ACTUAL GAME, FIRST QUARTER LIVE BLOG: GO HERE
↵
↵
↵
↵
This post originally appeared on the Sporting Blog. For more, see The Sporting Blog Archives.