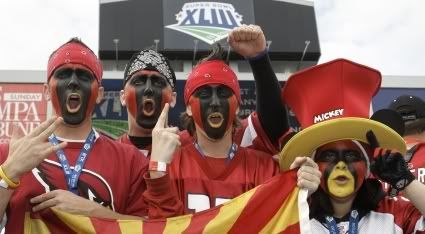 ↵
↵
SECOND QUARTER LIVE BLOG HERE.
↵
↵Follow the jump for the Super Bowl XLIII first quarter live blog. Hit F5 to refresh. Pre-game live blog
here
.
↵
↵
6:34 --
If Willie Parker didn't get a good gain there, Al Michaels tells us, he would of gotten no gain. THINK ABOUT IT.
↵
↵
6:37 --
John Madden just used the word "penetration" four times within 10 seconds. Jenna Jameson winces.
↵
↵
6:37 --
3rd and goal from the one for the Steelers. Ben Roethlisberger's massive dome sneaks over the goal line. Bigger
is
better. Meanwhile, Ken Whisenhunt is blowing his challenge wad extremely early, insisting that Ben's knees touched turf before he crossed the chalk.
↵
↵
6:42 --
Roethlisberger denied! That's a four-point swing, once Jeff Reed electric slides the ball through the uprights.
↵
↵
6:45 --
According to Michael and Madden, if Whisenhunt didn't get that call, the decision to defer the ball to the second half would have been a disaster. It's good to know the Cards dreamed of giving up a remarkably easy Steelers drive that had them inches from the goal line ... they just weren't prepared for a touchdown for Pittsburgh.
↵
↵
6:48 --
Who had "Troy Polamalu loses his contact lense" as the first injury? Edgerrin James dropped a ball on a hand-off. That and a holding call get Arizona a 3rd and 17. Kurt Warner can't connect with Boldin on a short stop. Aussie alert!
↵
↵
6:52 --
If you didn't know, Spencer Hall is offering his brilliance for the
FirstCuts commercial live blog
. I'll note that it's FANTASTIC Michael Cera won't do the
Arrested Development
movie so he can make gems like a Jack Black vehicle set in Caesar's Rome.
↵
↵
6:54 --
Dominique Rodgers-Cromartie saves a touchdown by catching up to a Big Ben floater fired at a (for-a-moment) wide fricking open Nate Washington. DRC looked like Jordan there for a second.
↵
↵
6:59 --
Pittsburgh is dominating the line of scrimmage right now. Steelers inside the 10.
↵
↵
SECOND QUARTER LIVE BLOG HERE
↵
This post originally appeared on the Sporting Blog. For more, see The Sporting Blog Archives.