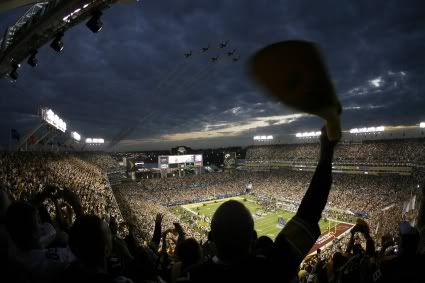 ↵
↵
FOURTH QUARTER LIVE BLOG HERE.
↵
↵Follow the jump for the Super Bowl XLIII second quarter live blog. Hit F5 to refresh. Pre-game live blog
here
. First quarter
here
. Second quarter
here
.
↵
↵
8:06 --
Over at FirstCuts, Spencer Hall
laments the end of decency
. ↵
↵⇥GoDaddy.com thinks you are all late in bringing the lowest common denominator to the party. Danica Patrick just took her fifth shower of the day! And washed off the remainder of her dignity, too! ↵
↵Meanwhile, Springsteen just crouched, put his mic stand between his legs and arched his back. Prince's phallic guitar has started a trend. I pray Michael Jackson doesn't get the show next year.
↵
↵
8:16 --
Am I a bad person for not being moved by The Boss? I'm not a terrorist or Republican, I swear.
↵
↵
8: 19 --
WEIRD! Just as Springsteen swung his guitar around his neck repeatedly, I did the same with my laptop and power cord to celebrate that Republican joke! I like Bruce a lot more now.
↵
↵
8:29 --
Unfortunately, it does not appear Warner was able to regrow his stubble during the break. Dang Brenda and her need for (facial) speed.
↵
↵
8:33 --
I think it has been established that James Harrison will be lionized on every play in which he fills a role for the rest of the game. I'd be annoyed, except that he deserves it.
↵
↵
8:35 --
The Steelers (James Harrison!) have recovered a fumble, but I have no idea what happened. They replayed it once before going to commercial, and I'm off TiVo for HD reasons. I have never looked so forward to endless replays while a ref watches porn cartoons under the peep show hood monitor hood.
↵
↵
8:39 --
Call on the field reversed. Ken Whisenhunt is UNDEFEATED in the challenge game. Apparently, the partisan Steeler crowd does not agree. Steeler ball after a punt.
↵
↵
8:47 --
Karlos Dansby pushes Big Ben in the back a second after the QB unloads the ball. Fifteen cheap yards. The Steelers don't need help, refs. They are doing fine without it.
↵
↵
8:51 --
Oof, Heath Miller drops what would be a TD. Another third and goal for Pittsburgh; the Steelers are 1-for-2 so far in such situations.
↵
↵
8:52 --
Ben barely avoids intentional grounding; Madden is amazed by the presence of automatic red lines denoting the tackle box. Madden mourns the loss of importance for his telestrator pen.
↵
↵
8:54 --
Holy heck. On the chip shot FG try, Adrian Wilson runs over the holder, Mitch Berger. Automatic first for Steelers. That's three personal foul penalties on this drive. BRUTAL.
↵
↵
8:56 --
Arizona manages three more stops inside the 10. Reed gets another kick; no Cardinal comes within 25 feet of Berger. 20-7 Steelers, a couple minutes left in the third. Tick tock tick tock.
↵
↵
9:00 --
Kickoff bounces past all Cardinal returners before settling inches out of the back of the end zone. Comeback attempt beginning beautifully.
↵
↵
9:04 --
Michael notes that Warner looks like has spent the last month in a spa. I think he means it in a positive way. But I don't imagine many Cardinals fans being inspired by that.
↵
↵
FOURTH QUARTER LIVE BLOG HERE.
↵
This post originally appeared on the Sporting Blog. For more, see The Sporting Blog Archives.