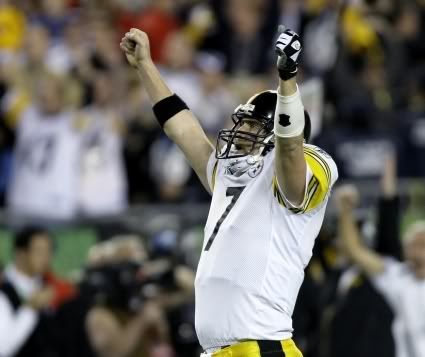 ↵
↵
↵I'm still trying to figure out why the game-ending fumble wasn't reviewed by booth, but it's irrelevant now as the confetti has fallen, Super Bowl Champion hats have been dawned and the Disneyland endorsement has been filmed. The Pittsburgh Steelers have won
a compelling Super Bowl XLIII
on the back of the unstoppable MVP Santonio Holmes, his gunslinger Ben Roethlisberger and killer James Harrison.
↵
↵Arizona made an incredible comeback in the fourth quarter, from 13 down to taking a three-point lead late. Larry Fitzgerald cemented his status as the league's capo receiver with two magnificent TDs. A championship was seconds away, and there's really no shame in a loss given the way things happened.
↵
↵Congratulations to the Steelers. That was a heckuva ball game.↵
This post originally appeared on the Sporting Blog. For more, see The Sporting Blog Archives.