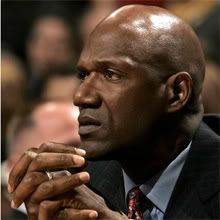 ↵The Suns have stuttered so much this season that Terry Porter's neck didn't really appear to be on the line until the past week or so. The natives have gotten restless, as the front office attempts to auction off a player 75% of NBA teams would build around. On the Friday that Phoenix opened its All-Star festivities, several media outlets (including a local radio station) reported that Porter had been fired.
↵
↵That was all a bit premature, as Suns management were instead intent on letting Porter's career wave from the top of a flagpole all weekend. Via
FanHouse
, here's
Paul Coro of the Arizona Republic
: ↵
↵⇥Although no final decision has been made, the apparent plan is for Suns management to fire Terry Porter - who in his first season has led the Suns to a 28-23 record and ninth place in the Western Conference standings - on Monday. ↵
↵I understand the desire to not allow any negative news to take precedence over the hard-won All-Star Weekend (cities work for years to get an event like this), but letting negative news to take precedence over the hard-won All-Star Weekend is
exactly
what the Suns have done. If you want to avoid this situation, you fire Porter with enough advance to make people forget or you thoroughly dismiss all suggestion it will happen in the next few days. (GM Steve Kerr and owner Robert Sarver have failed miserably on the latter count.) Perhaps management is being soft-willed in an effort to be honest with the media and players. But honesty has never had a place in pro sports.
↵
↵Above all, this is tremendously unfair to Porter. Truth be told, you fire him and his name will be out of the lights within the week. You leave him in the gallows' on-deck circle and he's headline material all over the nation. (See: this post.) The coaching carousel is depressing enough without blatant self-interested national attention PR moves like this involved.↵
This post originally appeared on the Sporting Blog. For more, see The Sporting Blog Archives.