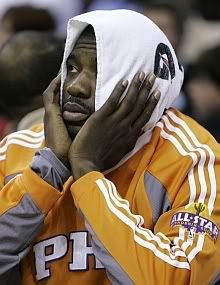 Welcome to Then & Now, where Bethlehem Shoals sums up the week in NBA hoops and tells you what to look for. Find it here every Sunday evening.
↵
↵
Great Desert of Unrest
: Hosting All-Star Weekend can bring positive attention to a city, raise the profile of a slept-on team . . . or, if an organization's floundering, crank up an unwelcome spotlight. Heading into the break, the Suns were a positively unstable cast of stars whose coach looked increasingly irrelevent.
↵
↵
As Ziller notes
, owner Robert Sarver and front office folks like Steve Kerr have done little to stave off this perception of imminent upheaval, when the smart move would've been to deal before ASW, or at least put on a brave face until next week. But with rumors flying, and Sarver and Kerr oozing uncertainty in their public statements, the Suns now have a public relations nightmare on their hands: all of the world's NBA media poking around in search of a scoop, not busying themselves with pumping up the city's reputation.
↵
↵You've heard the Amare-to-everywhere rumors, and yet Shaq's also supposedly on the block, and Phoenix appears worried that franchise face Steve Nash is already looking at the front door. And today, lots of chatter that Terry Porter will be fired as soon as the caterers leave town.
↵
↵
The End of the Beginning, or the Beginning of the End
: Trade rumors need to exist for half the people in the media to have a job, but there's a sense that this season, teams are actually looking to deal—whether to dump salary because of the economy, dump it to make a run at the 2010 free agents, or take advantage of this new climate to add talent on the cheap.
↵
↵We had our first big deal go down right before All-Star festivities kicked off, as the Raptors sent Jermaine O'Neal and Jamario Moon to the Heat for Shawn Marion and Marcus Banks.
I wrote earlier
that this trade could be big for both teams, or it could make neither significantly better, just different. Worst case, these two one-time All-Stars verify suspicions that they're in decline, and the Raptors get major relief this summer, the Heat in 2010.
↵
↵Money-wise, name-wise, and team identity-wise, this deal's more than notable. In any other year, this might be the main story of the trade season. Not this February, when no rumor seems too far-fetched and only about 20 players are absolutely untouchable. As with so much of Shawn Marion's career, this move's getting overshadowed. And as usual, it's up to him to prove he deserved the attention.
↵
↵
Dunk Contest Death Knell
: I can't explain what made Saturday's dunk contest so singularly dull. Maybe it was the fact that, from the beginning, all anyone wanted to talk about was Dwight Howard's pre-ordained victory. Maybe I'm sick of Nate Robinson getting scored on a curve because he's short (as Howard is sometimes, because he's tall). Maybe the props are too campy, and the required teammate participation too often turns it into a passing contest.
↵
↵Or maybe it was that, when Howard finally got a chance to dunk on a 12-foot rim—a much-hyped plan that the NBA refused to allow in 2007—the result was decidely anticlimactic. Or that on two dunks, Robinson used some form of human vault.
↵
↵Last year was hailed as a triumph for Howard and the NBA, but in retrospect it mostly just served as a marketing tool for the Magic superstar. Too much "imagination" and paegantry takes the event miles away from the raw act of dunking; handicapping for the very big and very small has reached the point where one friend suggested only swingmen be allowed to participate. This year, we saw a cartoon starring two of the league's biggest goofballs: an impromptu sneaker ad for the two of them, rock bottom as far as competition and intensity are concerned.
↵
↵That might be why LeBron James tentatively agreed to throw his name into the hat for 2010: He can ham it up with the best of them, but more important, LeBron could truly save the contest by bringing it back to its roots. James throwing down a tomahawk on a raised goal (that's one prop I don't mind) would cause outright pandemonium.
↵
↵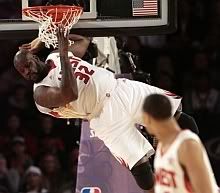 "What was that, Kobe, 1999-2002?"
: I'm not mad at the Shaq/Kobe co-MVP. Bryant led everyone in scoring, putting up points steadily thoughout, and Shaq was a force as the West decisively pulled ahead. Plus it was Shaq's city, he danced at the beginning, and his through-the-legs pass on rightful successor Dwight Howard was the game of the night. In a one-sided, largely uneventful main event—there was no real LeBron vs. Kobe, and only in the first few minutes could you have claimed that the Olympics changed the culture of the All-Star Game—seeing these two as teammates again ended up being the only story line that stuck. Though you could make the argument that Chris Paul was just as important and would've won the MVP, or at least made the shared award impossible, if he hadn't blown that breakaway dunk late in the game.
↵
↵
Dark Horse
: It may sound ridiculous to say about a player who only participated in the Rookie/Sophomore game and the brand new G-E-I-C-O contest, but no one made a bigger impact this weekend than Kevin Durant. That Durant isn't starting for the West is attributable to the vagaries of fan balloting; that the coaches saw fit to include David West over him makes you question their sanity. In his second season, Durant now owns opposing NBA teams like he did in his one season at Texas.
↵
↵He went into Friday's Rook/Soph match-up, an even looser affair than the Sunday game that usually degenerates into an impromptu dunk contest, looking steely and focused. I'm speculating here, but my guess is that he wanted to prove how idiotic his All-Star snub had been. He was also probably sick of hearing that this year's vaunted rookie class might top the players who had, you know, actually spent more than a few months in the big leagues—an upset that almost never happened. I also wouldn't be surprised if he's just incapable of not taking a game somewhat seriously.
↵
↵Regardless, Durant did nothing less than single-handedly change the tone of the event, which had an unusual shortage of highlight plays, uncontested dunks, and more defense throughout than even that "now it's for real" fourth quarter of the main event. Oh, and he shattered Amare's scoring record for the event, pouring in 46 points without once looking like he was gunning.
↵
↵Worth noting: Michael Beasley, the wacky, misunderstood and still-developing Heat rookie who happens to be one of Durant's closest friends, led the Rookies with 29 and led a late charge to steal the win. I can't believe I'm writing this, but maybe that performance will help Beasley's image a little after what's so far been a fairly inconclusive rookie campaign.
↵
↵Durant also triumphed in the inaugural G-E-I-C-O competiton, looking like he was out of it early before an array of freakishly long 3s—one sitting down—allowed him to come back and erase O.J. Mayo's early lead. This corporate-sponsored version of HORSE maybe featured a few too many straight jump shots, which made it weird when Durant, Mayo or Joe Johnson missed. But was fun, loose, and felt a lot less artificial than the spectacle later that night.
↵
↵
FILM CRITIC
:
↵
↵ ↵
↵
↵So I'm kind of sick of Obama/basketball, but this clip is just too rad to not enjoy. Via
Baller-in-Chief
, here's Bill Russell, Magic, Nash and a few other faces you might recognize breaking down our president's game. It's all in good fun—not with much of the "First Basketball President" seriousness you saw around the time of the inauguration, when basketball scouting all of a sudden became key to understanding this administration—and involves a lot of talk about Obama's swagger, or what Russell deems his "Harvard cool."
↵
↵Also nice to see NBA legends, guys who made this game what it is, breaking down this amateur—though admittedly very famous—hoops enthusiast, instead of Obama being the guy who will deliver professional basketball into the valley of legitimacy.
↵
↵
COMING ATTRACTIONS
:
↵
↵--If Terry Porter is indeed out as Phoenix's coach, does this mean an end to Amare rumors? Common sense holds that you either try a new coach or ditch a slumping superstar, but doing both seems a little excessive. You'd think that, unless Sarver's hell-bent on slashing payroll, or Kerr has received a super-duper offer despite having driven Stoudemire's stock through the ground, the plan now is to hope that
interim Alvin Gentry
, who was an assistant under D'Antoni, can put this talented roster back together again.
↵
↵--Throughout the first half, it was Boston, Los Angeles, and Cleveland. Then the Spurs eventually got healthy and fit their new guys into the rotation; they should now challenge the Lakers for the West (unless Andrew Bynum makes a miraculous and speedy return). The Magic exceeded expectations and, at least on paper, were an elite team before Jameer Nelson's season-ending injury.
↵
↵The question now is: Can any team crack this upper tier the way Orlando appeared to have? Will it be a team like Denver or Atlanta—already better than expected, though the Nuggets have the Chauncey Billups trade to thank for this—catching fire? Atlanta's still waiting for Josh Smith to look like himself and/or fit into their new, structured offense. Melo missed some time, and Billups probably could get even more accustomed to playing with this roster. Will Chicago benefit from a blockbuster trade, or Houston finally put it all together?
↵
↵To be quite honest, I don't see any team making such a leap that they pose a threat to the Big Four.
↵
↵--Not to keep talking about the trade deadline, or rehash last week's point that the really, really good teams are in the hunt, too, but the Celtics, Lakers, Cavs and Spurs all have their weaknesses and, if nothing else, realize that it couldn't hurt for them to stockpile armaments. We could very well see a very good player head to one of these teams, instead of just a role player who helps firm things up.
↵ 
↵There's been 
persistent talk
of New Jersey trading Vince Carter to San Antonio; that's a Pau-to-the-Lakers-type move that could, as we saw in 2007-08, set off a frenzy of huge deals.
↵
↵--I'm probably not the only NBA diehard who only starts caring about NCAA ball right around now, with March Madness on the horizon and all sorts of reputations about to rise and fall. Most of these players have been on the radar for years now, but right now you're beginning to see action that could, in the blink of an eye, make the difference between lottery pick lock and staying an extra year.↵
This post originally appeared on the Sporting Blog. For more, see The Sporting Blog Archives.