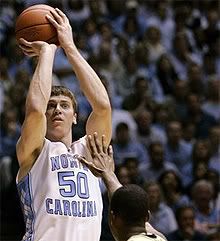 ↵Perhaps
that mammoth upset in College Park
didn't wake up North Carolina: the Heels let woeful Georgia Tech hang around for the first 15 minutes of today's battle in Chapel Hill. But in two blinks and a sneeze Carolina's offense exploded and finished out the half stomping Tech in oblivion, heading to the locker room with
a 46-33 lead
.
↵
↵Tyler Hansbrough scored 11 of UNC's first 13 points, and finished the half with 18 points and five rebounds.
He
looked woken up from the gun, and Danny Green/Ty Lawson joined him as the game moved along. Gani Lawal looked good for Tech early on. But Hansbrough laid waste to him from all over the halfcourt, eventually helping get Lawal in foul trouble. (Tyler Zeller, you ask? He is a saboteur and means nothing.)
↵
↵No offense to the Jackets or Virginia Tech (who will host Carolina Wednesday), but this is all a warm-up act for Duke at UNC next Sunday. You have to imagine that (barring upsets in advance) the showdown in Chapel Hill next weekend will either cinch a Carolina one-seed, or clear the path for Duke to slip into the top four.↵
This post originally appeared on the Sporting Blog. For more, see The Sporting Blog Archives.