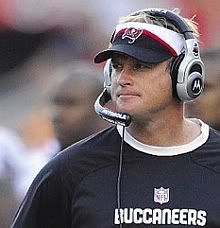 The
Orlando Sentinel
talked to Jon Gruden in what is called
the coach's first interview
since being canned by Tampa Bay. There's stuff about all that noise his ex-players offered, but the most interesting comments come regarding what Gruden is doing now (learning the spread offense) and what he thinks of the pro prospects of Tim Tebow. ↵
↵⇥He's like Brandon Jacobs playing quarterback. He's 250 pounds. He's the strongest human being who's ever played the position. Ever. He will kick the living [expletive] out of a defensive lineman. He'll fight anybody. He is rare. Tebow is the kind of guy who could revolutionize the game. He's the 'wildcat' who can throw. Most of the teams that have the wildcat back there, it's Ronnie Brown, it's Jerious Norwood, it's whoever you want to say it is. This guy here is 250 pounds of concrete cyanide, man. And he can throw. He throws well enough at any level to play quarterback." ↵
↵Tebow lust is nothing new, but Gruden's mode of fawning is a bit different: instead of the Jesus project, in which Tebow just has more heart than any other human being alive, Gruden focuses on the physical traits which may allow Tim to succeed in the NFL.
↵
↵If Gruden does end up taking a year off and doesn't flee to Notre Dame next winter (post-Weis), it will be interesting to see whether he tries to get the job at whatever team goes after a graduating Tebow. Plenty of coaches are already on the hot seat, and Gruden's track record should give him a choice of jobs.↵
This post originally appeared on the Sporting Blog. For more, see The Sporting Blog Archives.