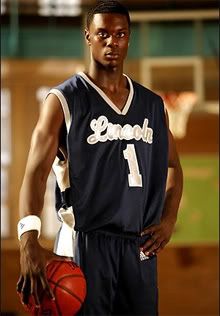 With the signing last summer of fresh outta high school guard Brandon Jennings, Under Armour entered the basketball market, issuing a direct challenge to Nike and Reebok. But you haven't arrived as a sneaker company until you have a controversy regarding high school or college kids. Thanks to NYC megaprospect Lance Stephenson, Under Armour is on the shady sneaker war map.
↵
↵The
Washington Post
has uncovered
some apparent problems with Stephenson's recent meeting
with UA boss Kevin Plank, a University of Maryland booster. (
UPDATE:
Under Armour tells us UA boss Kevin Plank, a Maryland booster, didn't meet with Stephenson because he was at the Super Bowl. Stephenson toured the facility, but didn't meet Plank.)
The Terps are recruiting Stephenson hard, and considering Plank is in the position to guarantee millions in post-college endorsement money and seems likely to advocate for UM, there's the appearance of potential impropriety.
↵
↵Of course, Nike's summer camps and affiliated AAU teams blow this sort of connection out of the water. The idea that top prospects in basketball aren't offered post-dated endorsements every single year is irresponsibly naive. Nike has massive endorsement deals with numerous collegiate programs and coaches (include Duke's Mike Krzyzewski). Maybe Plank/Under Armour's tie with Maryland is more blatant than the Nike/Duke connection ... but that's only because Nike has
tons of programs
beholden to the Swoosh. It's easier to cover your tracks when 75% of the world sits under your thumb.
↵
↵Busting up a shady Stephenson recruitment is fine, but the problems with the system don't sit on the shoulders of one dude, or one fledging shoe company. The apparent sugar daddy for Under Armour (Sonny Vaccaro) knows that better than anyone.↵
This post originally appeared on the Sporting Blog. For more, see The Sporting Blog Archives.